What will be covered in the article?
Generally speaking, both financial aid and scholarships are used to pay for college or university tuition. Students commonly see the two words being used interchangeably. But, there are differences between them regarding what they are about and who can receive them.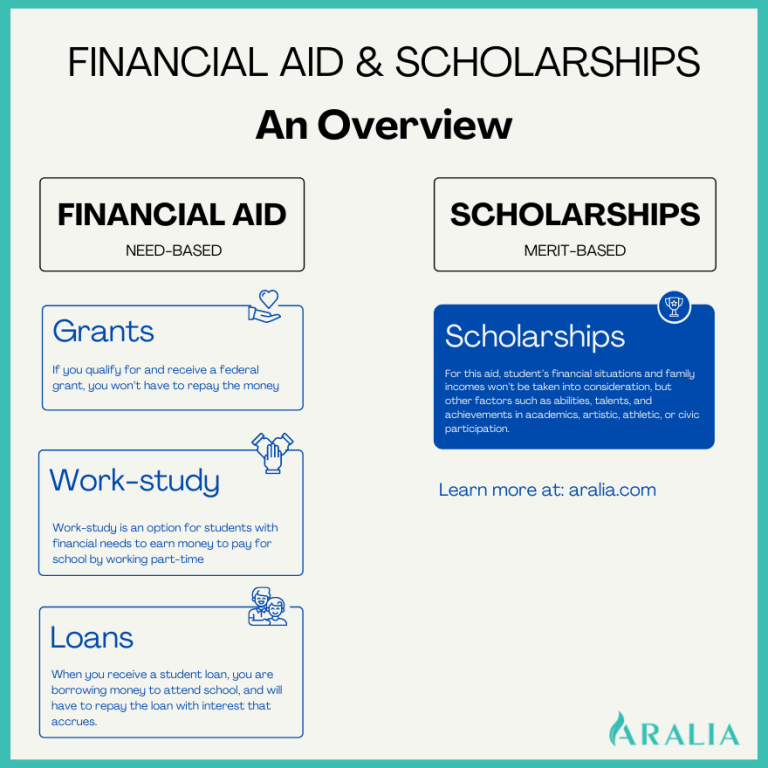 According to Federal Student Aid, financial aid is a significant umbrella term to describe money coming from "federal, state, school, and private sources to help you pay for college or career school."   
Financial aid can be categorized into need-based financial aid and merit-based financial aid; this is where overlapping terms for financial assistance come into play.   
Need-based financial aid 
Need-based financial aid is awarded to students based on their demonstrated financial needs, and it can be awarded through the federal government, state government, or schools. If you are in the process of applying to colleges, the term FAFSA® or CSS Profile will probably ring a bell.   
To be eligible for potential need-based financial aid, you have to complete both/either the FAFSA® and/or CSS Profile. The main difference between the two applications is that the FAFSA® provides federal grants, loans, and other types of government assistance based on their family financial situation; while the CSS Profile is mainly for universities to consider how much non-federal financial aid you need. Another difference between FAFSA® and/or CSS Profile is eligibility criteria. Only US citizens or eligible noncitizens can apply for FAFSA®, while CSS Profile can also accept international students in addition to US citizens.   
Need-based financial aid from the federal government can be awarded under grants, scholarships, work-study, and loans. Besides those, the federal government also has aid for military families and international study. Other uncommon federal government aid can be though education awards for community service with AmeriCorps, educational and training vouchers for current and former foster care youth, and/or scholarships and loan repayment programs through the Department of Health and Human Services' Indian Health Service, National Institutes of Health, and National Health Service Corps.   
For need-based financial aid from state governments, students need to look up more information from the website of state in which they reside.   
For need-based financial aid from the school, students will have the chance to receive aid under grants and/or scholarship funds. Students should visit the school's financial aid page or contact the financial aid office for more information.   
We have covered and given you an overview of the need-based financial aid. Let's talk more in detail about need-based federal financial aid. There are four main types of assistance under this category:   
Grants 
If you qualify for and receive a federal grant, you won't have to repay the money. Examples of grants can be Pell Grants, Federal Supplemental Educational Opportunity Grants (FSEOG), Teacher Education Assistance for College and Higher Education (TEACH) Grants, and Iraq and Afghanistan Service Grants. 
Work-study  
In the short term, work-study is an option for students with financial needs to earn money to pay for school by working part-time, through the Federal Work-Study Program. Work-study jobs can be both on-campus and off-campus. If off-campus, your job will be with a private nonprofit organization or a public agency, and the work performed must be in the public interest. 
Loans 
If you still need additional financial help, federal loans are another option. When you receive a student loan, you borrow money to attend school and have to repay the loan with interest that accrues. Your first bill will arrive six months after you graduate. Federal loans are different from private loans because federal loans offer lower fixed interest rates. Furthermore, you can adjust your loan payments or loan payment plan based on your income after graduation. More significantly, in some cases, federal loans can be forgiven.   
Scholarships are also called or can sometimes be a type of merit-based financial aid. Scholarships are mostly awarded through the college you will be attending, or through a non-profit organization. For this aid, students' financial situations and family incomes won't be considered, but other factors such as abilities, talents, and achievements in academics, art, athletics, or civic participation. There are also other preferences that students will be given scholarships, such as:   
Gender 

 

First-generation (neither parent has a four-year college degree) 

 

Race and ethnic identity 

 

Age 

 

Major or minor program 

 
Merit-based financial aid is awarded through scholarships, grants, or tuition discounts. You can be automatically qualified and considered for entrance scholarships if offered by the college, or you can apply yourself. You can apply for scholarships as early as your freshman year in high school until your junior year in college. Keep in mind that while some merit-based financial aid can be automatically renewed each academic year if you satisfy the GPA requirements, some will only be a one-time award, and you will have to reapply again.   
We hope that this article has helped you untangle some questions about college financial aid and scholarships. Financing for college is necessary to determine which college is the best fit for you, academically, professionally, and financially. For students preparing their college applications, we wish you the best with everything, and remember, everything will work its way out!   
If you have any questions about high school admission or college admissions, we encourage you to contact us!  Aralia partners with many top education consultants who can help with your college application and admissions journey.