1. National Speech & Debate Tournament
National Speech and Debate Tournament has been held by National Speech and Debate Association (NSDA) since 1931 and is considered the pinnacle of High School speech and debate. Registered students are required to compete in preliminary rounds in their respective events before being selected for the finals. After months of preparation and qualifying tournaments, only 2-7 finalists move forward with the national debate competition. Many National Champions and runners-up get scholarships to college. 
There are two tournaments each year: National Speech & Debate Tournament and the Middle School National Speech & Debate Tournament.  
Competition Date: June 16-21, 2024
Eligibility:  
Middle school and high school students: Students must have been in the fifth, sixth, seventh, or eighth grade during this academic school year 

in order to

 attend the middle school tournament. For the National Speech and Debate Tournament, students should currently be attending high school during this academic year.  

 
Deadline: Varies. 
Entry fee: Middle school students are required to pay $45-50 per student. High school students are required to pay $75-100 per student.  
More information on the timeline is available here.

2. The World Schools Debating Championships (WSDC)
The World Schools Debating Championships (WSDC) is an annual English-language debate competition for high school-level teams representing different countries. The championship takes place each year in a different country, and in 2021, it will be hosted in Macau. Seventy-five countries have participated at the WSDC since its inception in 1988. Of these, only Australia, Canada, England and the USA have competed in every World Championships.  
Eligibility:  
A member of the nation's team has to be a full-time student at a secondary school within 6 months of the start of the Championships.  
Either:  
have been ordinarily resident in the nation for the previous 12 months, or

be a passport-holding citizen of the nation, or

 

have been a full-time student at a secondary school in the nation within six months of the start of the Championships

 

have reached their 14th birthday by the start of the Championships

 

not to have reached their 19th birthday by the start of the Championships

 

not be enrolled at a tertiary or post-secondary school institution where their first term of study begins on or before the opening day of the Championships
Deadline: January 5 2023, to March 1 2023.
Entry fee: Free 

3. American Debate League
The American Debate League was founded in 2014 as a nonprofit organization. The organization aims to provide young people opportunities to develop debating, speaking, and literacy skills through competitions. Along with its national debate competition, American Debate League also has debate camps and the summer academy. The main debate competition that the American Debate League hosts is the Speech & Debate Tournament.  
Eligibility: There are three different divisions: Elementary School, Middle School and High School  
Deadline: There are multiple tournaments from December to May. Students can find more information on this website.  
Entry Fee: The entry fee varies depending on your grade.  

4. Harvard National Middle and High School Invitational Forensics Tournament
The Harvard National High School Invitational Forensics Tournament, held in Cambridge each Presidents' Day Weekend, is the largest and most prestigious high school speech and debate tournament in the country, providing opportunities for students to compete in Policy Debate, Lincoln-Douglas Debate, Public Forum Debate, Student Congress, and a variety of individual and duo speech events.  
Eligibility: All current middle and high school students in the U.S. 
Competition Date: February 18-20, 2023
More information: Information on the tournament, registration can be found at harvard.tabroom.com.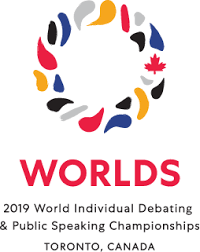 5. World Individual Debating and Public Speaking Championships
The World Individual Debating and Public Speaking Championship is an annual international English language debating and public speaking tournament for individual high school-level students representing different countries. 
Participating countries / regions include Australia, Hong Kong, Canada, the United States, England, South Africa, Lithuania, Pakistan, Cyprus, Argentina, Botswana, Israel, India, South Korea, Zimbabwe and German, and more.  
There are four different events within the championship: Debate, Impromptu Speaking, Persuasive or After Dinner Speaking and Interpretive Reading. Students have to register for all categories, and they will be marked for individual performance throughout the championship.  
Eligibility: Students who are currently enrolled in an accredited high school around the world 
Competition Date: March 26 – April 2, 2023
More information on the tournament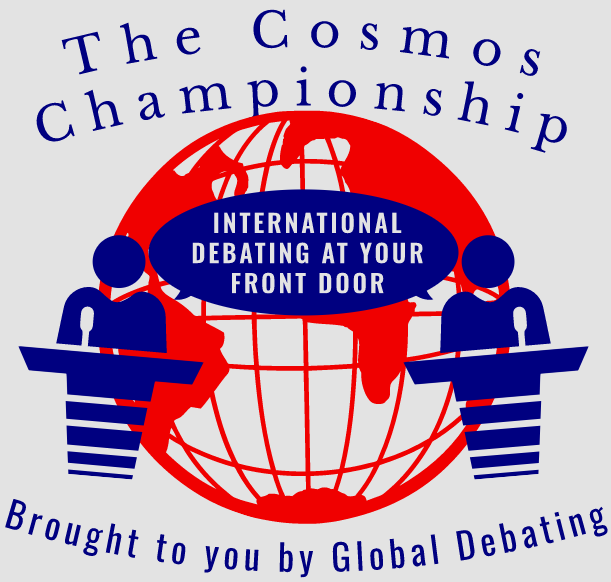 6. The Cosmos Championship
The Cosmos Championship is a global, virtual debating platform for high school students of any skill level. Almost every week, the championship hosts several debate competitions to accommodate all the regions of the world. There are two league classifications: The Intercontinental League and The International League. There are also two age groups can participate in the competition: Junior (13-15) and Senior (16-19). 
Eligibility: Students from age 13-19 who are currently attending middle school or high school anywhere around the world  
Entry Fee: FREE 
Deadline: No deadline, registrations are open throughout the entire season.  
These are all the competitions available for students to register for. If you are interested in improving your public speaking and debate skills, consider signing up for our speaking and debate programs.  
Public Speaking and Debate
This Public Speaking and Debate class will offer the opportunity to speak and listen to others talk only as much as possible. We will alternate between learning the structure of different types of speeches and making presentations by one student to the rest of the class. After each speech by students, we will have a critique from the peers, and the teacher. They will also be required and coached on how to participate in the discussion and to critique their peers.
TED-Style Public Speaking
In this English Speaking course, each class will focus on different topics: sports, volunteer experience, current affairs, politics, culture, education, literature, technology, and the environment. These various themes are based on real situations that students will encounter when they come to the United States. Learning to discuss these topics will be very useful when interacting with native English speakers. Students will build a solid foundation in oral expression and learn how to express themselves confidently and clearly in English.
The accent reduction course focuses on understanding and strengthening the unique sounds and structures that make up the "neutral" dialect. While there are many dialects throughout America, it is the neutral accent commonly practiced by public speakers and officials. Radio DJs, TV news anchors, and even most Hollywood movie actors use the neutral accent to convey their message to the largest group of Americans possible. By eliminating accents in communication, we can more easily connect to our audience and erase any misunderstandings or unconscious bias from a foreign dialect, whether domestic or international.