1. What are the Cambridge International A, A2 and AS Levels? 
Cambridge International A Level and AS Level is short for Cambridge International Advanced Levels (A-Level) and Cambridge International Advanced Subsidiary Levels (AS Level). There are more than 175,000 students in 125+ countries who have taken the program.
The A-Level is United Kingdom's pre-university qualification for students aged 16 to 19. The program length is two years, and will reward grades A* to E (90-0%).
The AS Level is a separate qualification, but it can be applied to is equal to the first year of the full 2-year A-Level courses. The AS level is typically one year and will reward grades A to E. Students can start one course at the AS level and then extend it to A Level. Typically, students take 4 subjects at AS level and 3 subjects at A Level. The standard admission for UK universities is 3 A Levels.
A2 Level refers to the second part of the A Level syllabus and is not a standalone qualification. We mentioned that students can extend a subject from the AS Level to the A Level, and that the second phase is the A2 Level. Both AS and A2 are one-year programs, and the combination of 2 is equal to 2 years of A Level.
There are three different assessment approaches to AS and A Level:
Standalone Assessment (AS Level), where students only take the AS level.
Staged Assessment (A Level), where students take AS Level in Year 1 and extend the subjects as A Level in Year 2.
Linear Assessment (A Level), where students take A Level Courses in the same series, or both AS and A2 Level (if students choose to take both AS and A2 Level, Cambridge International will calculate A Level grade as normal based on their performance in the AS and A2 Level).
To sum up, A Level courses are two years long with 6 modules, students who take the AS Level during the first year will study 3 modules. Once you get the AS result, you can:
Choose to keep the AS Level as a standalone qualification OR
Do further study with the A2 modules as the second part of the A Level. Upon completion of the A2 model, the grade of AS will be combined with the A2 Level to make up one A Level.
2. Comparison with AICE and other Cambridge Advanced-related programs
Students may feel confused about Cambridge International A Level, AICE (Advanced International Certificate of Education), and other Cambridge Advanced-related programs, and that's totally okay! Let us walk you through the various programs that Cambridge International offers.
Overall, A-Level, AS Level, and AICE belong to Cambridge Advanced program for students from 16 to 19 years. In addition to Cambridge Advanced, the organization also offer various programs for students from 5 to 16 years old.
Cambridge Advanced is the last program in the Cambridge Pathway, a series of programs for students from age 5 to 19. Cambridge Pathway is developed by Cambridge Assessment International Education, a part of the University of Cambridge.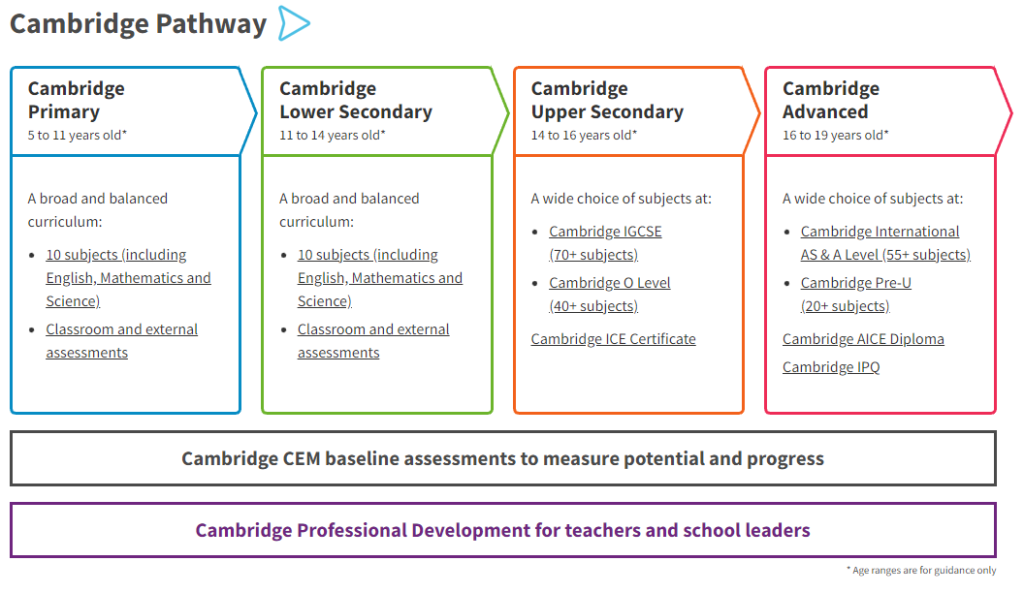 Cambridge Advanced is designed for learners in preparation for university and higher education. Cambridge Advanced offers various options: Cambridge International AS & A Level, Cambridge Pre-U, Cambridge AICE Diploma, and the Cambridge IPO.
Cambridge Pre-U, a post-16 qualification that prepares students from age 16 to 19 for university academics, is an alternative to A Level. The program has 25 individual subjects and students can choose to take three or four of them. Some students take a combination of Pre-U and A Level. The program includes Global Perspectives and Independent Research – a two-year course with an extended project. Students can also take a one-year Global Perspectives short course.
In addition to the two main options, students can also take Cambridge AICE Diploma. The diploma is awarded to students who pass the examinations in subjects drawn from three curriculum areas (Mathematics and Science, Languages, and Arts and Humanities) within the AS and A Level. AS Level awards students 1 credit, and A level awards 2 credits. Students are required to achieve a minimum of 7 credits, so students can mix and match AS and A levels to their personal goals. The AICE diploma is taken mainly in America.
The last option in Cambridge Advanced is Cambridge IPQ – International Project Qualification. Students will complete a 5000-word research project on a topic of their choice.  Students will learn about how to conduct a research project from the beginning to the end, from developing a question, conducting research, and writing a report. This is quite similar to the AP Capstone program, made up of the AP Seminar class where students gain critical thinking skills and learn how to conduct research, and the AP Research class which provides students with an opportunity to conduct independent research and then submit 4000 to 5000-word research paper on a topic of their choice.
3. Subjects in A Level and AS Level
Cambridge International AS & A Level offer a range of subjects, with a total of 55 subjects for students to choose from, meaning that students have the freedom to choose whatever subjects interest them the most or will benefit them in their future studies. Students usually take three subjects at the A-Level and four subjects at the AS Level. The standard admission requirement for UK universities is three A Levels.
A-Level and AS-Level courses fall into these categories: 
English
Mathematics
Science
Languages 
Humanities 
Technology
Social Sciences 
The Arts 
General Studies
Now, the subjects you should take at A-Level depend on you and your future goals. Here are some points to consider when choosing a class: 
Choose the class that you enjoy the most and where you can see yourself advancing in that area. Or, you can choose the classes that you are good at. 
Since A-Level results can benefit you tremendously when applying for college, take into consideration your future career and your future study in mind. Which classes will be required as entry requirements for that major in college? Also, which classes will prepare you for the selected courses in the university?
Students who are uncertain of their future and what they want to study typically take a more general approach to course registration by taking courses like English Language & Literature, Math, Biology, History, Geography, Psychology, Economics, Art, etc. 
4. Examination for the A Level and AS Level 
At the end of two years, students will take an assessment. The Cambridge International A Level is reported on the scale of A* (highest) to E(lowest).  There is no A* grade for Cambridge International AS Levels.  If students fail an A-Level assessment, they can resit the whole exam. Students can also retake their A Levels as many times as necessary. 
To help students' grades be transferred to universities worldwide, Cambridge Assessment International Education released Percentage Uniform Mark (PUM). The table is as below: 
| | |
| --- | --- |
| AS Level grade | PUM range |
| A | 80-100 |
| B | 70–79 |
| C | 60–69 |
| D | 50–59 |
| E | 40–49 |
| | |
| --- | --- |
| A Level grade | PUM range |
| A* | 90-100 |
| A | 80-89 |
| B | 70–79 |
| C | 60–69 |
| D | 50–59 |
| E | 40–49 |
5. Who recognizes A Level and AS Level? 
Being one of the most popular and globally recognized programs, its qualifications are acknowledged and recognized by universities worldwide: UK, Ireland, USA, Canada, etc.  Good scores from the A Level and AS Level can grant you up to 1 year of university credit if you apply to universities. 
While Yale University doesn't pinpoint the A Level, students who have completed AICE exams prior to submitting their application can self-report their scores for consideration.
The University of Washington also awards students a passing grade for university credits. The university offers credit waivers for courses in all fields ranging from Accounting, Psychology, Music, Media Studies, etc. Check the website to learn more. 
6. What's the difference between A/AS Level and AICE: 
Advanced International Certificate of Education is an international curriculum and examination system designed to develop students' profound understanding of a variety of subjects and mastery of a broader range of skills. 
AICE is developed mainly for schools in the USA because of the variety of courses students can enroll in. AICE is similar to AP in the range of exams offered to students. Moreover, AICE is popular in America, especially in Florida, as a requirement for high school graduation. 
While A-Level and AS Level offers students at most four subjects to study throughout two years, students in the AICE diploma must complete a minimum of 7 credits, with at least one credit from each of three different subject groups plus the core compulsory subject.
There are four available subject groups: 
Group 1: Mathematics and Science: Biology, Chemistry, Design and Technology, Computer Science, etc.  
Group 2: Language: Afrikaans, Chinese, French, Japanese, Spanish, Germany, etc.  
Group 3: Arts and Humanities: Accounting, Business, Art & Design, History, etc  
Group 4: Interdisciplinary subjects (optional): English General Paper, Thinking Skills 
The one core compulsory subject requires students to study and pass the revised Cambridge International AS Level Global Perspectives & Research class. This class challenges students to think critically, analyze evidence, and compare perspectives. At the end of the course, the assessments are a team project presentation and a written exam.