In high school, students will have the opportunity to enroll in college-level classes. Advanced Placement (AP) or International Baccalaureate (IB) are offered in many high schools across America. AP and IB classes attract students because of they allow students to earn college credit or place out of the introductory courses in college.   
Deciding whether you want to take IB or AP courses plays an essential factor in choosing a high school. Don't worry, we'll provide the most comprehensive information about both of them, what the differences are between them, and the advantages and disadvantages of each.   
An AP course (Advanced Placement) is generally equivalent to a first-year university course but is taken in high school. AP courses are recognized by most US colleges and universities for credit. Additionally, more than 3000 universities in 22 countries have recognized AP courses.
AP exams use a scoring system from 1 to 5. Candidates can get scores of 1, 2, 3, 4, or 5. Generally, scores of three or more are recognized for credit at universities, but there are several special circumstances. Some rigorous and selective universities only accept scores of 4 points or more, some even require an AP exam score of 5 to recognize the AP course for credit, and some universities do not accept AP scores.
AP courses can increase GPA scores: the average AP course score can increase GPA points by 0.1 points. GPA is one of the top factors when considering students for admission to top universities in the United States, as it reflects the comprehensive learning ability of a high school student. 
AP courses provide some of the best proof of student learning ability and future development potential. In the United States, students who can participate in AP courses are outstanding and have high learning ability. Since students must consider their professional direction in the future when selecting AP courses, prestigious universities can fully evaluate students' capacity and preparation for their future considered profession from the courses the student selected.
AP courses are also one of the important factors considered by top American universities when reviewing a student's initiative for taking challenging academic courses. Since AP courses cover subjects in American college introductory courses, they are much more complicated than regular or honors high school classes. Therefore, top universities can judge a student's confidence and ability to face academic challenges and deal with difficulties from whether they take an AP course as well as how many AP courses they take during high school.  
By earning college credits through AP, students can graduate early or take more rigorous courses in a subject they are interested in. More than 90% of colleges and universities in the United States and Canada grant course credit for AP scores. If you complete a certain number of AP course credits in high school, you may be qualified to graduate college between 1 and 3 semesters early. U.S University costs between $1,000 – $2,000 a credit. An AP course can be worth about three to six university credits, leading to substantial savings.
The test time for most subjects is 2-3 hours. Each test is divided into two parts: the first part is multiple-choice questions, and the second part is free-response questions. The test content will be different depending on the course. Candidates can choose to apply for exam subjects according to their actual needs and register for exams on the  Collegeboard website. Candidates will receive their AP scores before the end of June.
Why do we suggest students sign up for AP Program and get good grades?
1) AP courses are challenging for students, so somebody who is up for the challenge can prove their learning ability.
2) AP courses are highly recognized by American universities. AP courses, GPA, and test scores are important criteria for college admissions. American universities consider a student's performance in AP courses and exams as one basis for measuring whether students are well prepared for college level courses.
3) From an economic point of view, a high AP score equals university credits. Students can then shorten their college time and save expensive university tuition.
How to choose the right AP course
Each student needs to consider that taking a high number of AP courses isn't necessarily better. Instead of taking a bunch of AP courses and earning scores of 2 or 3 on the exam, it is better to concentrate on a few AP courses where you can earn you scores of 4 or 5. AP courses should also align with your own interests, expertise, and own future major(s) / professional direction. If you have a dream university you would like to apply to, we suggest going to the AP page on their official website to learn about the approved AP subjects and the required score for each one. There is really no standard answer for how many AP courses are appropriate for a student's high school workload.
How to choose AP courses according to my own interests and development direction?
If you are interested in economics, you can take economics.
If you are good at science in high school, you can take mathematics, physics, biology, calculus, etc.
If you are preparing to study business, you can take economics or statistics.
If you are strong in liberal arts, you can choose the humanities.
If you don't currently have a clear plan for the future, you can choose calculus, English literature, and other courses included in basic liberal arts college education. Choosing AP courses in this way leads to the best outcome; you take classes in an area you're interested in as well as being able to earn credit towards your future college degree.
If there are no AP courses at my school, can I still take AP exams?
Generally speaking, universities will pay more attention to students taking AP courses at their high school. By taking AP courses at school, the final grades for the AP courses in the transcript represent a student's learning process. Universities will calculate a student's GPA based on the course's difficulty.
On the other hand, we understand that some schools do not offer AP courses. Although students do not take AP courses, they can still take AP exams. Although some schools do not offer AP courses – and that can be the determining factor for taking the AP exams, students should also consider their school's reputation. For example, in the case of Phillips Exeter, even though it doesn't offer any AP courses, this will not affect the students' progression. The school itself has advanced course offerings that cover the content required to be successful on the AP exams. After finishing those courses, students can confidently take AP exams.
Are there any awards for completion of AP projects and what are the standards?
Based on the number of AP classes taken, and scores on AP exams, the College Board also gives students some AP awards, such as: AP Scholar with Honor, AP Scholar with Distinction, State AP Scholar, National AP Scholar, National AP Scholar (Canada), National AP Scholar (Bermuda), DoDEA AP Scholar, International AP Scholar, AP International Diploma (APID). All these awards have different requirements, but the minimum requirements are a score of 3 or more on AP tests exams taken.
What are the recommended AP reference books?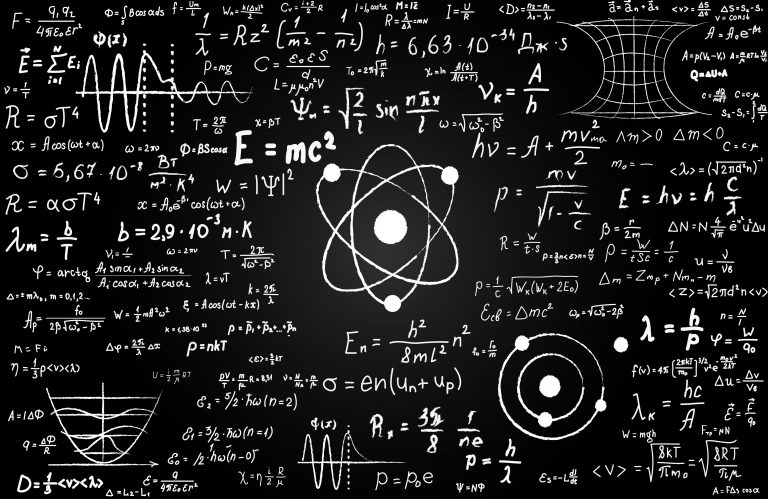 The College Board has a very comprehensive introduction to AP courses, and there are free syllabuses online. Aralia Education also provides helpful resources for AP courses, for example, AP Physics 1
Try not to rely on AP exam guidance books. The problem with some reference books on the market is that they do not fully cover the syllabus and test structure. In addition, there are many errors and old information, which can easily mislead students.
Consider buying the official College Board AP test prep books. Although the textbooks recommended by the College Board include a large amount of information, it will not be challenging to comprehend and understand the content. The knowledge points described are also explained thoroughly; therefore, the College Board books are far better most other tutorial books in the market 
Each student has his/her own method of learning, so we recommend you use the method most suitable for you. But it should be noted that students shouldn't grind through AP courses for the sake of scores. Students should learn with the mentality that AP courses will play an essential part in their university life. If taking high school AP classes is just for rushing to get AP exam scores, there is no real understanding and mastery of the knowledge. The AP exam score is a short-term goal, but the knowledge will benefit you in the long-term, specifically by providing the knowledge base required in order to take higher-level courses during college.   
INTERNATIONAL BACCALAUREATE
What is International Baccalaureate?
The International Baccalaureate® Diploma Programme (DP) – IB Programmes or IB Diploma Program was established in 1968 by the non-profit international organization International Baccalaureate Organization. As of 10 December 2020, there were 7,232 programs being offered worldwide, across 5,402 schools in 158 countries, for students aged 16-19. 
The International Baccalaureate Organization's mission statement is to: develop inquiring, knowledgeable, and caring young people. By understanding and preparing for multiculturalism, they contribute to the creation of a better and peaceful world. Through the IB diploma program, the school trains students in several areas: 
Have good breadth and depth of knowledge
Flourish in physical, intellectual, emotional, and ethical aspects
Learn at least two languages
Excellent at traditional subjects
Explore the breadth and depth of the knowledge through unique curriculum 
What is the curriculum of IB?
The program offers a curriculum consisting of core concepts and six subject groups. The core is to expand students' educational experience and challenge them to apply their knowledge and skills. The three core elements included in the course are: 
Theory of Knowledge: in which students reflect on the nature of knowledge and on how we know what we claim to know.
The extended essay, which is an independent, self-directed piece of research, finishes with a 4,000-word paper.
Creativity, activity, and service, in which students complete a project related to those three concepts. 
What are the six subject groups?
The six compulsory courses of the IB preparatory program are basically the same as the American high school curriculum. They are: 
Studies in language and literature 
Students need at least one language and literature subject. If students take two language and literature studies courses, they can get a bilingual diploma. The language and literature study subjects provide learning in 55 languages. 
Students can acquire and master a world language (the most common languages are Latin, Spanish, French, Chinese, etc.). Most IB schools will offer different levels of courses from introductory to advanced. 
Individuals and societies 
Available courses include business management, economics, geography, world politics, history, information technology in a global society, philosophy, psychology, social and cultural anthropology, and world religions. By studying any of these subjects, students will have a critical understanding and understanding of human experience and behavior, the environment in which humans live, the types of economic and social settings, and the history of social and cultural undertakings. 
The available subjects are biology, computer science, chemistry, design technology, physics, sports and health sciences, and environmental systems and society (interdisciplinary courses). Students explore the basic concepts, theories, models, and skills in various subject areas and develop their understanding of scientific methods. Students must also complete a science project that combines environmental, social, and ethics to apply scientific methods to solve global problems. 
In order to meet the interests and ability level of different students, and the various university requirements, the IB preparatory program provides four levels of mathematics courses. 
Analysis and Approaches Standard Level (SL) 
Mathematics: Analysis and Approaches Higher Level (HL) 
Mathematics: Applications and Interpretation SL  
Mathematics: Applications and Interpretation HL 
Courses include dance, music, film, stage, and visual arts. The art courses aim to help students understand the dynamics characteristics of art, explore the diversity of art across time, space and culture, so students can express themselves with confidence. Students can also choose a second science, personal and social, or language subject instead of art subjects. 
Scoring system for IB Preparatory Programme
If the school offers International Baccalaureate® courses, subject examinations will be held in May at the end of the term. IB uses both external and internal evaluation methods to calculate student performance. The primary way of external evaluation is through examinations, since exams have high levels of objectivity and reliability. Extended essays, structured questions, data answer questions, and text answer questions are used in the exams.   
The internal evaluation method refers to teacher evaluation, which is often used. The aspects include: 
The oral work in the language.
The fieldwork in geography.
The laboratory work in the sciences.
Investigations in mathematics.
Artistic performances.   
The IB score ranges from 1-7 points. Students can also get an additional 3 points through the theory of knowledge (TOK) and extended essay (EE) components. Students need to complete a minimum of 24 points to obtain the IB Diploma. The diploma shows each subject's total scores, so the full score is (6 courses * 7 points/course + 3 additional points from TOK and EE) = 45 points.  
Students who gain a grade 3 or higher in studies in language and literature and a grade 3 or higher in an individuals and societies or science subject, completed in a different language, will also receive the bilingual diploma. 
So how many points do I need to receive for an IB course to be considered excellent?
Generally speaking, a score of 6 in an IB subject is a great result (which is also very challenging). In terms of the total score, if you can get a total score of 38-40, this is viewed very positively by university admissions teams.  However, it's important to note that an IB score is one-factor colleges consider when evaluating a college application. Admissions officers also consider other factors such as extracurricular activities, essays, and letters of recommendation. Additionally, colleges have different policies when it comes to granting credit for IB courses, so it's essential to research the policies of the colleges you're interested in to ensure you're making the most informed decision about which classes to take.
Benefits of taking the IB Preparatory Program
The IB Preparatory Program is a set of academically challenging and comprehensive university introductory courses that require students to have strong academic performance.
According to statistics for many years, students who graduated from the Preparatory Program receive an 18% higher acceptance rate to Ivy League universities. Outside of Ivy League, it's 22% higher on average (International Insight Research Group). The students who took those courses can look at problems from an interdisciplinary and transnational perspective. The understanding, creativity, and openness of knowledge and practical problems are better for students.
So, if a student's school offers IB program courses, we encourage students to take the courses in order to reach their fullest potential. Students should try their best to take courses in the 11th and 12th grades.
Comparing between AP and IB, not every school offers the second option. In the United States, only 920 schools offer IB preparatory courses, and not every school offers diverse courses in the subject groups; more American high schools offer AP courses to provide high school students with opportunities to challenge academic difficulties and earn college credits in advance.
In the process of university application, academic ability considerations accounted for 60%. Strong academics in AP and IB can strengthen students' research, understanding, and independent learning ability, thereby increasing university admission probability. For example, two students are taking the same class, but at different levels, where one course is AP, and the other is a normal course. If the two students receive the same grades, the university admissions officer may prefer students taking AP courses.  
Another advantage is saving money. Whether it's an IB Diploma or AP Exam scores, both IB AND AP can be used towards course credit or higher course placement in colleges and universities. Of the two, AP exams are likely able to be used to transfer more credits, which saves a lot of tuition. Both classes can expand a student's academic capabilities. Generally, many high school students are not fully prepared for college-level work. After spending long hours of reading, independent thinking, doing research, and participating in various activities like labs or performances, AP and IB students can succeed in their college careers.   
Relatively speaking, between AP and IB, the IB system project is better than AP in terms of expanding aspects of a student's ability. In the future, we believe some high schools will gradually move away from AP courses because they feel that AP focuses more on exam-taking abilities than holistic learning. 
Flexibility: AP courses allow students to explore a wide range of subjects and choose the ones that interest them the most.
College credit: AP exams can earn students college credit if they score high enough on the exam. This can save students time and money in college.
College readiness: AP courses are designed to prepare students for the rigors of college-level work, helping them develop critical thinking, problem-solving, and time-management skills.
Recognition: AP courses are widely recognized by colleges and universities, and can demonstrate a student's academic strength and commitment to challenging coursework.
Global perspective: IB courses focus on developing a global perspective, helping students understand and appreciate different cultures and perspectives. IB courses are designed to develop students' intellectual, emotional, and social skills, helping them become well-rounded individuals.
College readiness: Like AP courses, IB courses prepare students for college-level work, helping them develop critical thinking, problem-solving, and time-management skills.
College credit: IB exams can earn students college credit if they score high enough on the exam, although policies vary by college.
DIFFERENCES BETWEEN AP AND IB
| TYPE | AP | IB |
| --- | --- | --- |
| Philosophy | College preparation | Education for a globalizing world |
| Goals, Outcomes | Earn college credit in high school | Earn a globally-recognized diploma |
| Curriculum | Less focus on writing, Coursework is the only requirement | Focused on writing and critical thinking. Second language requirement. Extracurricular requirement. Extended essay requirement. |
| Program Design | No set program, students can take any number of individual courses | Diploma program with set series of courses. Courses can be taken a la carte, but this will not result in a diploma |
| Exam Format | Mostly multiple choice with a few writing portions | Predominantly writing |
| Exam Cost | Less expensive. No registration fee | More expensive. Required registration fee |
| Exam Eligibility | Open to anyone, including IB students, whether they've taken the corresponding AP course or not | Must be enrolled in IB to take exams |
| Online Availability | All courses available online | Select courses available online, students can't earn diploma completely online |
Primarily, their educational philosophy is different. AP courses are more concentrated and focus on specific subjects, while IB are more comprehensive. IB students can obtain the globally recognized IB Diploma Degree. However, students do not receive an internationally recognized diploma after the AP exam.  
Both IB and AP offer transferring credits. Schools have different rules and guidelines about how many credits that they can transfer. Therefore, before deciding to take either, check with your college counselor in your high school. 
AP pays more attention to individual disciplines and is individually academic-focused. In the IB Diploma Program, students need creativity and team collaboration, additionally, students are required to be involved in a certain number of hours of club and social activities, which is not needed by AP. 
COMPARE DUAL ENROLLMENT, ADVANCED PLACEMENT AND INTERNATIONAL BACCALAUREATE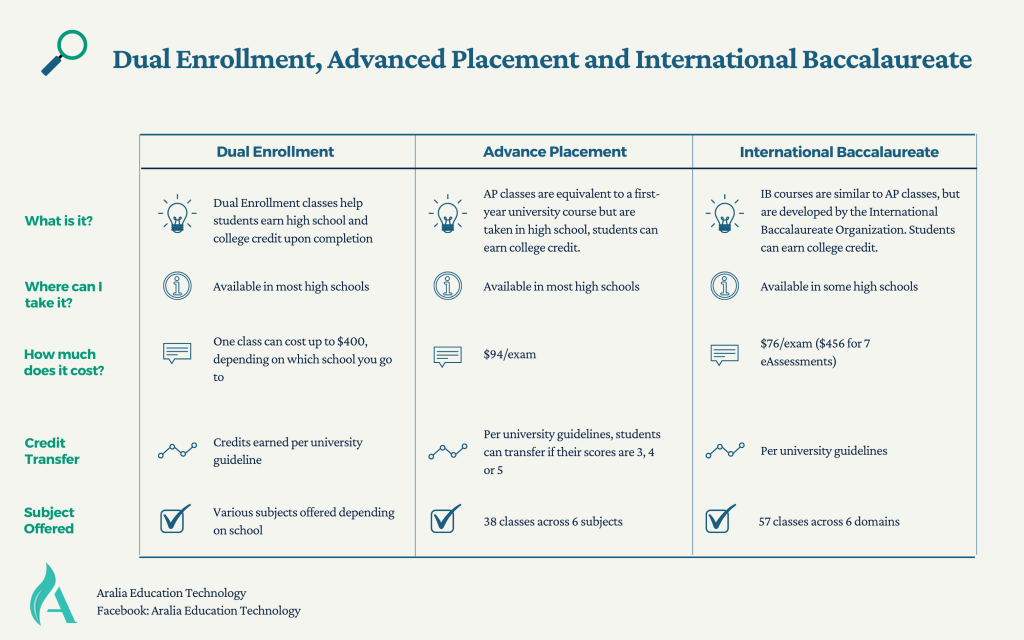 Aralia Education is an online platform that connects students and teachers around the world. We offer small group and 1-on-1 tutoring sessions in standard academic, AP courses, and more. We're currently opening up AP and IB programs, like 4 new online AP tutoring classes and private tutoring sessions for IB:
Our AP tutors are inspired teachers and professors who are committed to student success. They are recognized in their field or are currently teaching at top high schools and colleges/universities in the US. List of instructors can be read HERE.
Students interested in receiving tutor sessions from us in any subject can register through the form in the top right of the page, or in the course pages. Aralia's AP tutors are inspired teachers and professors who are committed to student success. They are recognized in their field or are currently teaching at top high schools and colleges/universities in the US.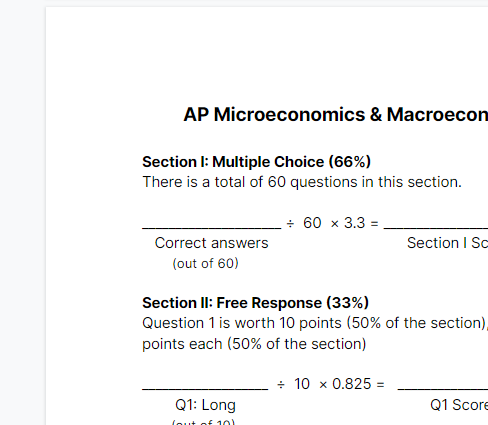 FREE 2023 AP Scoring Worksheet
With the scoring worksheet, you will be able to calculate your target score in preparation for the upcoming exam in May. We also have a full scoring worksheet available  below if you want to print it out and keep it in your folder.