1. High School Alternatives to AP and IB: Dual Enrollment and Concurrent Enrollment
As an alternative option to AP and IB, Dual Enrollment and Concurrent Enrollment can have different meanings depending on the context. In general, they allow high school students to take college courses either at a local college/university or in your high school. College professors or specifically trained high-level high school teachers will teach the college courses and students will receive college credit at the end of the course (if passed). In most cases, students who take dual enrollment will have reduced or free tuition for the class.
This option is beneficial for high school students without access to AP and IB, because they will receive college credit for the desired courses. Since the class is an actual college-level class, the credit transfer process is usually relatively simple. In addition, students will get a head start and be familiar with college-level coursework before entering college. 
2. Honors course in high school
Honors courses in high school refer to more rigorous and demanding courses than a regular course. Honors courses emphasize critical and independent thinking, with difficulty being around college-level. To encourage classroom participation, honors courses generally have a smaller teacher-student ratio. While honors courses are not AP and IB classes, the rigor and content covered is are broader and more in-depth as compared to a regular non-honors class. Various high schools like Phillips Academy Andover don't offer traditional AP and IB courses. Phillips Academy Andover is one of America's most prestigious boarding high schools. The academy is unique in its curriculum design. Specifically, the Academy offers 6 levels of courses, from level 1 being introductory courses to level 6 being equivalent to sophomore-level college courses. The level 3, 4, and 5 courses are beyond AP and IB level, which means students passing the classes will have the knowledge and understanding if they decide to take AP-level courses. 
If you want to experience the rigor of AP and IB, you can also conduct an independent study with a faculty advisor or academic advisor. Independent study is focused on research about an area of choice. This is not a traditional route for high school students, but many top-performing students conduct independent research in preparation for enrolling to top colleges and universities. Students will not be granted college credits during independent research; however, they can put their research progress and results into their resumes as well as consider publishing the research in a high school level publication to help make their college application stand out. 
Students can seek out different instructional services or teachers to help with independent study in addition to their teachers at school. Aralia is currently offering a wide array of independent study projects, from art, science, and business. Students interested in conducting research and getting their papers or essays published can register for our classes. Contact us to learn more about the class and pricing information. 
4. Pre-College Summer Program that offers credit
Certain Pre-College Summer Programs will offer students college credits upon completion. The topics of these programs vary; therefore, students should consider the college course requirements of their desired major when considering these programs. Most programs will happen during the summer so that students can have a residential experience living on college campuses. Students can take these programs starting 9th grade; however, we recommend doing it during 10th or 11th grade.
Besides taking AP and IB classes, students who take Summer Program can also experience college living and independence – all great habits to prepare for college. If students are unsure of which classes to take, they should keep an open mind and consider taking classes of interest. The point of Pre-College Summer Programs is to offer students opportunities to discover passion and major of interest. For instance, you may be interested in science but not sure which direction you should go into. By taking a pre-college program, you can find your niche with newfound knowledge and choose the desired major for college.
5. Active involvement in extracurricular activities
Within the college application, having a great list of extracurricular activities is as important as getting a 4 or 5 on an Advanced Placement exam when applying to great colleges. If your school doesn't offer AP and IB courses, no need to worry too much because you can always try harder in terms of extracurricular activities to show your passion and interest. Completion of AP courses shows to admission officers that you can handle the workload of college courses; however, but this can be substituted with other extracurricular activities.
For example, the AP Research/AP Seminar courses were created to help students learn research methods and then conduct research for a year. However, students can receive a similar experience by conducting an independent study at school or participating in multiple science research programs during the summer through internships or pre-college programs. Since these programs take place on college campuses, you will be able to experience the college environment while honing your research skills.
In addition to academic extracurricular activities, students can always show their soft skills in college applications such as leadership, honors, awards for different competitions, etc. Students can be creative in considering which activities are beneficial for their application, rather than limiting themselves to traditional and conventional options that schools offer. Just make sure that you discuss any potential activities with your academic advisor so that they are aware of your progression and provide suggestions for improvement.
6. Take the AP test without in-class teaching
Students are allowed to take AP examinations without taking AP courses, like the example of Phillips Academy Andover school we mentioned above. Without prior instruction from your school, you will surely experience some level of struggle and feel lost. However, if you're up for the challenge and want to show colleges that you're determined to achieve, consider independently studying the course material and taking an AP exam for a class that isn't offered at your school.
The application process is more than hitting all the checkmarks: good GPA, SAT or ACT, AP and IB classes, etc. It's about showing the admission officers that you have the potential and the capability to succeed in college and in the future, in showing your various array of extracurricular activities, taking AP tests without taking formal AP classes, or in proactively contributing to your community. 
If your school doesn't offer AP courses and you're looking for a general overview or a deep dive into the AP curriculum, consider registering for Aralia's Advanced Placement courses: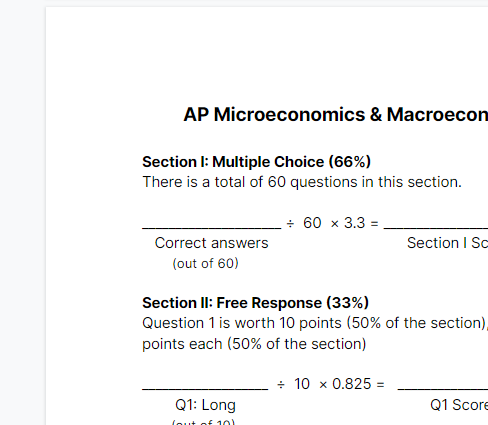 FREE 2023 AP Scoring Worksheet
With the scoring worksheet, you will be able to calculate your target score in preparation for the upcoming exam in May. We also have a full scoring worksheet available  below if you want to print it out and keep it in your folder.