1. What is the International Baccalaureate Middle Years Programme / IB MYP?
International Baccalaureate Middle Years Programme, or IB MYP, is a five-year rigorous program for middle school students from 11-16 years of age. Depending on the partnership with schools, students may participate in abbreviated versions of MYP, such as two, three, or four-year formats of the program. The program's mission is to provide students with a challenging curriculum that will expose them to international education and prepare them for the real world. The program empowers students to understand issues and ideas on multiple levels, locally, nationally, and internationally. By participating in the International Baccalaureate IB MYP program, students will: 
build confidence in managing their own learning

learn by doing, connecting the classroom to the larger world

outperform non-IB students in critical academic skills

consistently have greater success in IB Diploma Programme examinations

thrive in positive school cultures where they are engaged and motivated to excel 

develop an understanding of global challenges and a commitment to act as responsible citizens.
(Resource: IB website)
In short, the program aims to develop and help students thrive in these learner profiles: 
Inquirers

Knowledgeable

Thinkers

Communicators

Principled

Open-minded

Caring

Risk-takers

Balanced

Reflective 
After the successful completion of the MYP Programme, students will be prepared to take the IB Diploma Programme (DP) or Career-related Programme (CP). 
2. What's the curriculum of the IB Middle Years Programme / IB MYP?
The focus of the IB MYP programme is around the understanding of common humanity and shared guardianship of the planet, which is global awareness and the drive to change the world. Therefore, the IB MYP curriculum is built around 6 layers of the relationship to oneself, to others, and to the world: identities and relationships, personal and cultural expression, orientations in space and time, scientific and technical innovation, fairness and development, globalization and sustainability. In referring to the 6 theme groups, there are 8 main subject groups that students will need to study: 
Language acquisition

Language and literature

Individuals and societies

Sciences

Mathematics

Arts

Physical and health education

Design
The MYP program requires authorized schools to provide at least 50 hours of instruction time for each subject group. For authorized schools which offer a four or five-year programme, students can take IB courses from six of the eight subject groups, which are tailored to each student's individual needs. 
In addition to the main curriculum, students are also required to participate in at least one interdisciplinary unit that involves at least two subject groups. The purpose of the interdisciplinary learning unit is to encourage students to make connections between different areas of knowledge, in order to understand complex issues and ideas and empower students to solve global problems. 
Along with the main curriculum and the interdisciplinary unit, students also must participate in MYP projects. 
Students who complete the program in year 3 or 4 must complete a community service project independently or in a small group 

Students who complete the program in year 5 are required to do a personal project, testing student's ability to conduct independent work
For the Middle Years Programme MYP projects, students have the freedom to choose what they want to learn about through identifying existing knowledge on the chosen topic and new knowledge to complete the project. After the ideation stage, students will prepare proposals and appropriate documents for the project. The end result is a product or a project that reflects their development in learning and project outcome. 
Below is an example curriculum provided by the International School of Paris. The school offers options for students who want to complete the program in 3, 4, or 5 years. The longer you study in the program, the deeper and broader you will focus on each subject group. The only difference in this curriculum is that IB MYP5 offers a personal project as an MYP project requirement.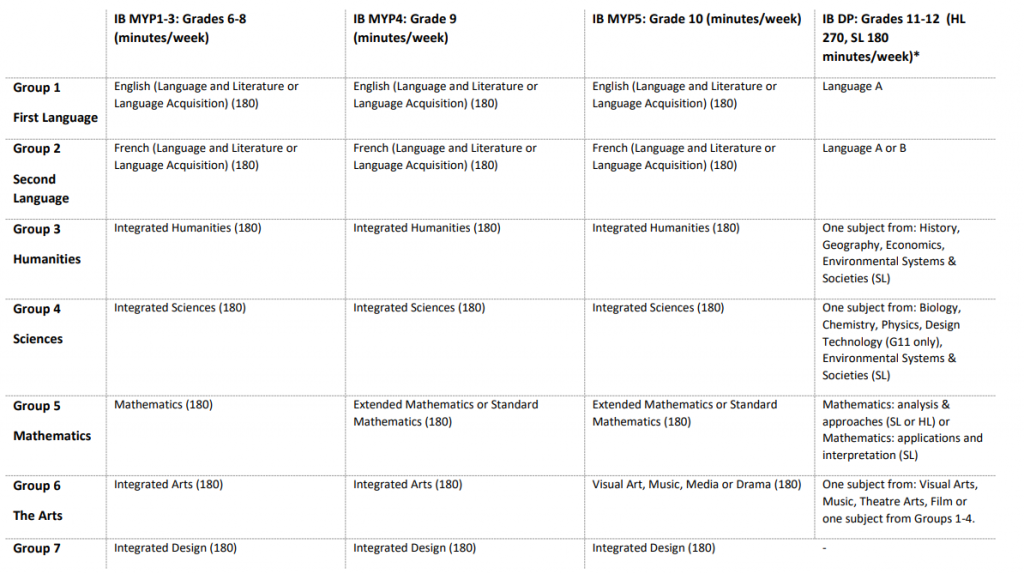 3. What schools offer MYP classes and IB Middle Years Programme / IB MYP
MYP is currently offered in 1,358 authorized schools in 108 countries. If you are an incoming middle school student who is looking for schools that offer the IB MYP program, check out this IB website to learn more. 
4. What is the testing system of the IB Middle Years Programme / IB MYP?
Upon the completion of courses in the IB MYP Programme, students have the option to complete external assessments to receive an internationally recognized certificate. The IB Programme uses internal and optional external assessments (eAssessment) in the MYP. 
For internal assessment, or school-based assessments, teachers use the assessment criteria to assess prescribed subject-group objectives. 
External assessment is optional based on whether the school registers for it or not. If yes, students can participate in any of these two types of examinations: 
ePortfolios of coursework, including a compulsory ePortfolio for the personal project.

On-screen IB exams, with each exam lasting two hours.
5. Should you enroll in the IB Middle Years Programme / IB MYP?
By participating in the IB MYP Middle Years Programme, you receive many benefits that you wouldn't have received when enrolling in a normal middle school: 
Be involved in a continuum curriculum: You are prepared for future education with interdisciplinary skills and knowledge. The PYP (Primary Years Programme), MYP, and DP (Diploma Programme) provide continuing education to prepare students for the next steps in their educational journey. IB MYP is the best available prep program for the IB DP in high school, which allows students to experience college-level coursework and earn college credits.
Receive an internationally recognized certificate: Since International Baccalaureate programs are offered in more than 108 countries around the world, the IB certificate you receive provides lots of value academically. The IB diploma is recognized by most leading high school and college institutions, which will help you stand out significantly if you decide to pursue advanced education in countries around the world. 
Students learn by doing and experience, not memorizing:

"The IB is very good at teaching critical thinking, while AP is much more memorization (as I've heard from friends who take AP classes).

" With the rigor and challenging curriculum, the IB programme teaches students by doing and experiencing. Through the MYP community project and personal project, students learn to serve the community, conduct learning independently and connect what they learn in the classroom to the real world. In addition, the IB programme allows students to learn to understand, instead of just memorizing facts or topics and preparing for exams after exams. 

Develop soft skills and global awareness through studying interdisciplinary areas: With the IB MYPcurriculum, you are strongly encouraged to analyze and evaluate issues and consider new perspectives in the context of globally significant ideas and issues. Throughout the process of learning, students will develop critical thinking skills, cooperation, and independence. As students grow into young adults, they will develop to become confident and independent learners and workers who are motivated to excel. 
These are our observations when analyzing the program and listening to student's feedback. IB has also released a research paper analyzing student performance with and without participating in the IB MYP Middle Years Programme.  When comparing participation in the IB MYP program to AP and IB performance, MYP participation is positively related to greater success in the AP and IB programs. 
The International Baccalaureate Middle Years Programme is an exciting and challenging journey for middle school students that will help them have a better sense of self within themselves, within the community they belong to, and within the world they are living in.