For international students, the TOEFL and IELTS have been the only two accepted standardized tests across the world when they decide to attend schools where the educational programs are in English. However, due to the complicated situation of COVID-19, many schools and universities have started to accept a third option: Duolingo English Test, which is taken at home over the Internet. Good news: DET only costs you $49, and it's accepted by over 2,000 institutions across the globe, for both undergraduate and graduate studies.  
What will be covered in the article?
1. What is Duolingo English Test (DET)?
The Duolingo English Test is an assessment that you take online using a computer and a webcam. That means: no far travel to a test center and no appointment needed for the test. Similar to the TOEFL and IELTS, it tests all four language skills: Reading, Listening, Speaking, and Writing. You can take up to two DET tests within the 30-day period, the results are certified within 40 hours, and they are valid for 2 years.  
With innovative cutting-edge technology, similar to the GRE standardized test for graduate students, question difficulty adapts to each test taker. If you answer the first questions correctly, the test will become harder, and vice versa. Within only several questions, the software will categorize and gradually verify your English ability. If you want to familiarize yourself with the test platform, DET offers a FREE 15-minute practice test for you to take before purchasing the official test. 
2. Why DET instead of TOEFL & IELTS
| | DET | TOEFL | IELTS |
| --- | --- | --- | --- |
| Test delivery format | On demand, online, computer-based | Computer-based | Paper-based |
| Cost of the test | $49 | $165-$300 | $215-$245 |
| Cost of sending results to schools | FREE | FREE (first 4 universities), $20 after the 4th one | FREE (first 5 universities), $20 after the 5th one |
| Length | < 1 hour | 4 hours | 2 hours 45 minutes |
| How frequently the test is offered | Unlimited | 50+ test dates | Up to 48 test dates |
| Where scores are accepted | 2,000+ organizations. Others will temporarily accept the DET due to COVID-19. | 10,000+ organizations globally, including 5,000+ U.S. institutions | 9,000+ organizations globally, including around 3,000 U.S. institutions |
| Results timeline | Within 2 days | 10 days after the test | 13 days after the test |
| Scoring scale | 0 to 160 | 0 to 120 | 0 to 9.0 |
| Where to take the test | https://englishtest.duolingo.com/home | https://www.ets.org/toefl | https://www.ielts.org/en-us |
If you're applying to primarily colleges and universities that accept this score

 

If you

 feel

 more confident 

to perform better on a test 

in a comfortable environment 

 

If your financial situation doesn't allow you to take multiple TOEFL and IELTS tests within one year

 
If one or more of those statements resonate with you, then DET can be a good choice. However, if you've been studying for TOEFL and IELTS test formats, or you do better when in a time-restricted and higher-pressure environment, then perhaps the DET isn't a choice you should consider at the moment.  
Similar to the TOEFL and IELTS, the DET tests 4 language skills: Speaking, Reading, Writing, and Listening. However, the test questions are slightly different compared to the other two. From the practice test, we see that the questions are more related to a person's daily life as well as academics, but not too advanced into a specific field.  
You'll see a variety of test questions on Duolingo in formats that may be entirely new to you:  
Listening to spoken words and selecting the real ones

 

Reviewing written words and selecting the real ones

 
Completing missing letters from a text

 

Describing an image in writing or aloud

 

Recording yourself saying a written sentence

 

Verbally answering a spoken question

 

Responding in writing to a written question (writing samples have a maximum of 500 words but are usually much shorter)

 
Typing out a statement that you hear

 
In addition, you should also be prepared to speak for 30 seconds to 1 minute 30 seconds about the topics presented in the exam.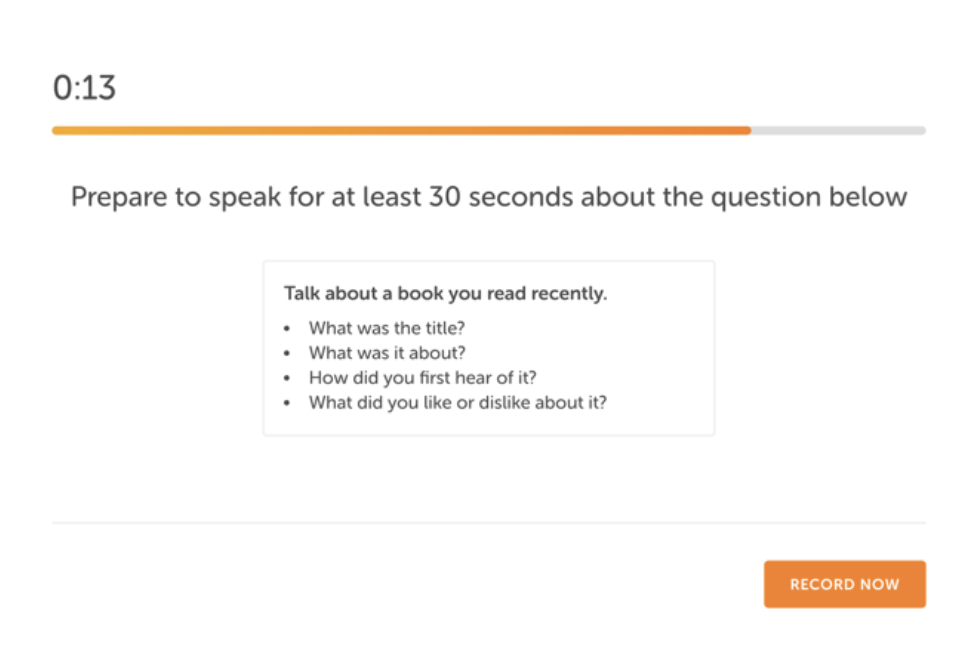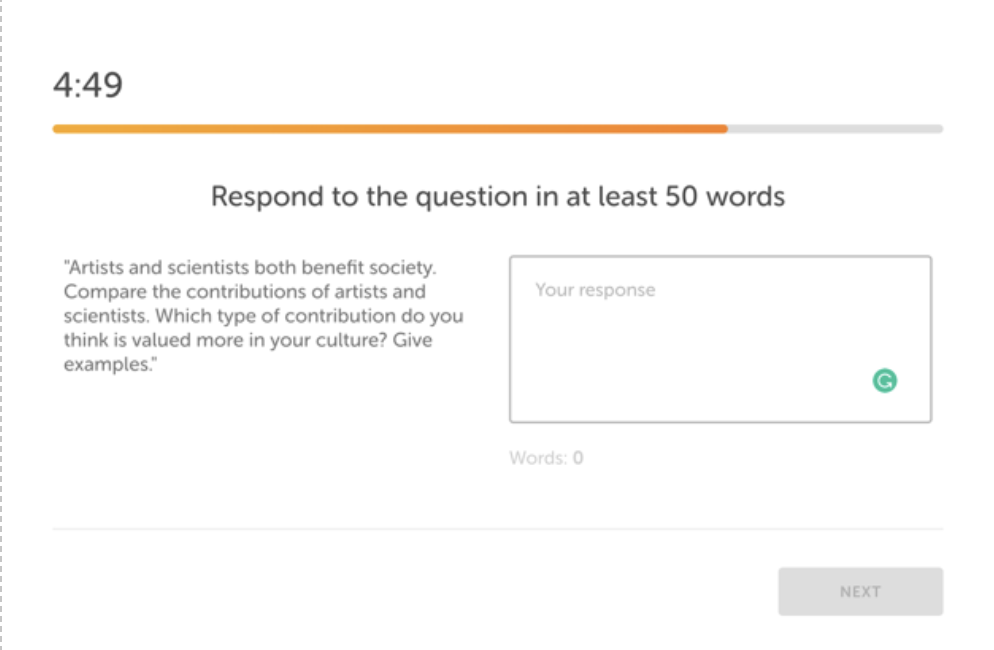 Duolingo English Test has released a new scale out of 160 in 5 point increments, to reduce misinterpretation of the test score. 
Below is the Test Score Conversion for TOEFL iBT & IELTS. For more details, please refer to Score Converter Chart 
| DET | TOEFL iBT |
| --- | --- |
| 150-160 | 120 |
| 145 | 119 |
| 140 | 116 - 118 |
| 135 | 113-115 |
| 130 | 108 - 112 |
| DET | IELTS |
| --- | --- |
| 155-160 | 9 |
| 145 - 150 | 8.5 |
| 135 - 140 | 8 |
| 125 - 130 | 7.5 |
| 115 - 120 | 7 |
No matter what your preference is, there's only one way to tell how you will do: Take the practice test and see if it's right for you. You can learn more about the test and how it works in the link down below: https://englishtest.duolingo.com/ 
Now, you finally have the chance to choose which test fits you the best – TOEFL, DET, or IELTS. If you need more assistance in choosing an ESL test, or practicing for any test, our team of tutors is here to help you! Just reach out today to learn more!