What will be covered in the article?
1. When are the 2022 AP Examinations?
Last year, students had the option to take the AP exams at home or at school, both digitally and on paper. This year, the 2022 AP examinations will follow the same structure as two years ago. Students will have to take the test in school as a paper and pencil exam over two weeks in May: May 2–6 and May 9–13. The only exceptions are the AP Chinese and AP Japanese Exams, which are administered in schools on computers.
Week 1 of the AP Examinations is from Monday, May 2, through Friday, May 6. Week 2 runs from May 9 to May 13. All AP examinations will begin at 8 am for the morning test, 12 pm for the afternoon, and 2 pm for AP Physics C. However, with examinations that require digital portfolios, the deadline will vary. 
2022 AP Exam Schedule – Week 1
| | | |
| --- | --- | --- |
|   | 8 am Local Time | 12 pm Local Time |
| Mon, May 2 | | |
| Tues, May 3 | | |
| Wed, May 4 | | |
| Thurs, May 5 | | Seminar |
| Fri, May 6 | | |
2022 AP Exam Schedule – Week 2
| | | | |
| --- | --- | --- | --- |
|   | 8 am Local Time | 12 pm Local Time | 2 pm Local Time |
| Mon, May 9 | | |   |
| Tues, May 10 | | | |
| Wed, May 11 | Chinese Language (digital) | |   |
| Thurs, May 12 | | |   |
| Fri, May 13 | | |   |
Exams with Digital Portfolios
AP Art and Design: Your teacher or AP coordinator will set their own deadline for you to submit your portfolio. After you submit your portfolio to your teacher, the AP coordinator needs to forward it to the AP Program by the first week in May.
AP Seminar and AP Research: May 2, 2022 (11:59 p.m.) is the deadline to submit performance tasks as final and for your presentations to be scored by your AP Seminar or AP Research teacher.
AP Computer Science Principles: May 2, 2022 (11:59 p.m.) is the deadline to submit your Create performance task as final.
2. 2022 AP Exam structure
Each of the 38 examinations has unique requirements, but all of them take around 2-3 hours to complete. The first part of the exam is multiple-choice, and the second part of the exam is generally free-response questions. In 2020 and 2021, the College Board allowed for a digital version of the exams; however, this year, most exams will return to traditional pencil and paper due to the positive changes in the pandemic situation. 
The structure may or may not apply if students are granted special accommodation for the AP testing exam. Students with below disabilities can apply for accommodations: 
Braille exam format
Assistive technology–compatible (ATC) exam format
Large-print exam format
Extended time
Extra breaks
Large-block answer sheets
Permission to use a computer for typing essays
Permission to use a magnification device (electronic or non-electronic)
A human reader to dictate questions
A writer/scribe to record responses
A written copy of oral instructions
The deadline to request accommodations for Spring 2022 was January 18, 2022. Students will need to submit all required materials onto the portal and bring the documents during the test date. All information can be found on the College Board Accommodation site. 
3. Tips to prepare for the 2022 AP Exams
In the article 4 Steps to Study for The 2022 AP Test, we have synthesized four important steps that every student should take: 
Understand the 2022 AP Test Schedule to plan ahead
Take a practice AP test to evaluate your knowledge/level and discover areas for improvement
Make a study plan
Practice with AP Practice Questions and Review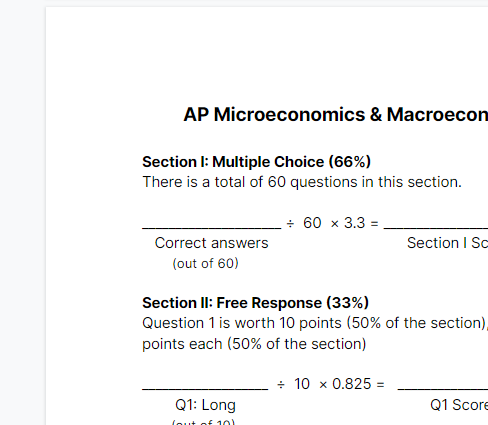 FREE 2022 AP Scoring Worksheet
With the scoring worksheet, you will be able to calculate your target score in preparation for the upcoming exam in May. We also have a full scoring worksheet available  below if you want to print it out and keep it in your folder.