Simply speaking, a business plan is a guide for you and your teammates, "describing in detail how a business—usually a startup—defines its objectives and how it is to go about achieving its goals." There are two types of business plans: traditional and lean. The images below illustrate the visualization of the two. Depending on the type of business, the structure of the organization, and the requirements of the stakeholders, you may have to complete a traditional business plan, which can be up to 20 pages long. A lean business plan is only one page long. 
Once you have a strong business idea, you can use the business plan to attract other team members to work with you to develop this product and/or service. Before discussing what goes into a traditional business plan, we will use this example from ThoughtCo in developing a business plan for an imaginary firm called Acme Management Technology company. 
How to write a traditional business plan
A traditional business plan requires quite a bit of time for you and your teammates to complete it because it's comprehensive and detail-oriented. Some people may think this kind of plan is a waste of time. However, investors, as well as corporate leaders, still request this kind of business plan if they prefer to have a full story and overview of the business. The business plan that we will base this information on is from Bplan. 
The executive summary is the first and the most important part to grab your reader's attention and guide them throughout your business plan. Normally, an executive summary includes: Business Objectives, Mission Statement, Company Introduction, High-level growth plan/Key to success, and Financial Projections. Since this is only an executive summary, don't try to fit every piece of information in this part, just a high-level overview. 
Example: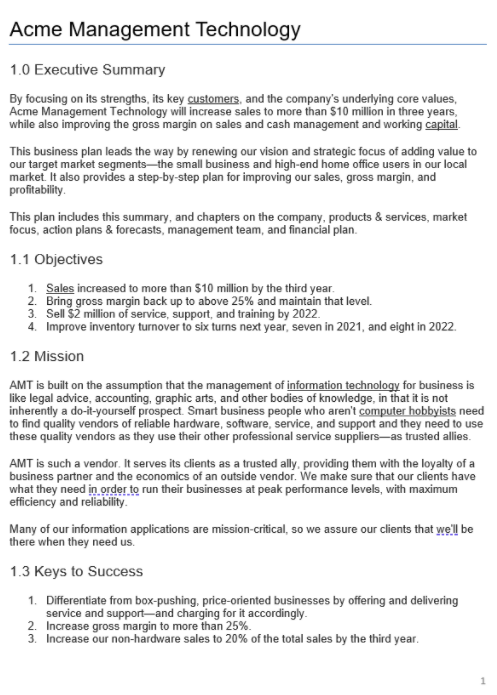 Company Ownership

Start-up Plan (for new companies) or Company History (for ongoing companies)

Company Locations and Facilities
In this section, you should include only information about your company. Examples of information that can be included are company ownership, company history, company locations and an overview of the balance sheet for the last year. 
Product and Service Description

Competitive Comparison

Sales Literature

Sourcing

Technology

Future Products and Services
In this section, you should only discuss the products and services you are selling. The current products you are selling may be different from the ultimate products. You can use this section to go into details about how this product works, as well as discuss the competitive advantages that your product or service has compared to other companies in the market. In addition, you can also provide other related information such as sourcing, technology, etc., if the products you sell are complicated. 
Market Segmentation

Target Market Segment Strategy

Market Needs

Market Trends

Market Growth

Industry Analysis

Industry Participants

Distribution Patterns

Competition and Buying Patterns

Main Competitors
This section should be quite detailed and requires lots of information since you need a full understanding of the industry outlook, the target market, and your competitors. In order to complete this section properly, you need to conduct primary and secondary market research, as well as a thorough understanding of your competitors. If you want to know more about market, consumer, and competitor research, head over to 5 steps to start a business in high school. 
5. Strategy and Implementation Strategy
Value Proposition

Marketing Strategy

Positioning Statements

Pricing Strategy

Promotion Strategy

Distribution Patterns

Sales Strategy

Sales Forecast

Sales Programs

Strategic Alliances
Strategy overview and implementation strategy require you to make projections and forecasts for the upcoming years' sales based on the strategy you create. In business class, you will often hear the term Marketing Mix, which historically centered around product, price, place, and promotion (the 4Ps). In this section, you have space to provide information about different aspects of marketing and sales plans. The main purpose of this section is to describe how you will attract and retain potential customers through marketing a product and selling a product. Depending on the target audience, your marketing and sales strategy can evolve and change. 
6. Organization and management
Management Summary

Organizational Structure

Management Team
In a traditional and professional business plan, you should provide detailed information about your management and organizational structure, as well as the role of each important stakeholder. However, with a simpler business plan generally used for high school business competitions, you won't have to discuss this section in detail. Instead, you would focus on the above sections instead. 
Key Financial Indicators

Break-even Analysis

Projected Profit and Loss

Projected Cash Flow

Projected Balance Sheet

Business Ratios

Long-term Plan
In this section, you can go into detail about the financial plan of the company. You will have to provide graphs and charts to visualize the numbers in the financial statements for investors/judges. Make sure to have the long-term plan in your business plan to prove that the proposed business is sustainable. As a high school student, you won't be able to provide the full financial details in your business plan, because it hasn't generated much revenue yet. Therefore, you should only include the first four items in the list. 
How to write a lean business plan
Overall, the lean business plan focuses less on planning since team members can finish the lean plan within an hour. A traditional business plan is normally long in length, however the strategy and implementation of the plan can change over time. Therefore, the lean business plan has become more frequently implemented. 
In a lean business plan, you answer the 4 main questions: 
What products/services are you going to create? 

How are you going to market/sell your product? 

How are you going to make money with the product? 

Who is responsible for what? 
There are various versions of the lean business plan on the internet. In this article, we will have the 2 most popular versions: 
The Lean V1 is a concise version of the traditional business plan because it has all the required components but doesn't go into detail for any.  Download Lean Business Plan V1. 
The Lean V2 was introduced by the U.S. Small Business Administration and provides information about the company's value proposition, infrastructure, customers, and finances. You can read more about the key components. And here is the Lean Business Plan V2 with an example. 
Diamond Business Challenge Competition Prep
Aspiring entrepreneurs will create, promote, and market a company to win over the Diamond Challenge Business Competition's judges. In this intensive format, students will conduct the business ideation process, create a business plan, conduct environmental scanning, establishing the organizational mission, vision, and value statements, create marketing and promotion strategies, write the business proposal and create a pitch deck required by the Diamond Challenge Business Competition.