Though AP English Literature and Composition has become a more popular test among students, it has still remained one of the harder AP tests (with a 5-point score rate of only 9.3%). The broad topics and the complexity of literary analysis are challenging for students, especially those whose first language is not English. To help students have an easier time learning and reviewing for this AP Exam, we have gathered the ultimate AP English Literature Reading List. Now, let's take a look! 
1. Free Response Question #3
We only cover the free-response question #3 because, in this section, students must select a work of fiction from 25 to 30 listed pieces on the exam to answer the question within 45 minutes of the whole 2 hours of the exam. We've gathered some pieces that were picked more than 2 times throughout the course of 2012-2019:  
Among the top 19 books we've mentioned, there are 8 books that were picked more than 3 times in the past 7 years.  
Among the 8 popular picks, half of them were published in the 19th century. The remaining books range from the 17th to the 20th century, with the exception of the 18th century. Books that were mentioned three times are from the 17th, 19th and 20th centuries.  
It's important to note novels, poems and plays from varied eras have differences in language and ways of expression. Therefore, students should familiarize themselves with novels from all eras, in order to be comfortable with answering the questions. 
Every year, the College Board provides a minimum of 25 literary works for students to analyze, and the list changes every year. However, having a list of the most common picks will give you an idea about which pieces and which period of time to focus your review on. Below, we give you the list of works that have been mentioned on the AP English Literature exam many times over the past 7 years.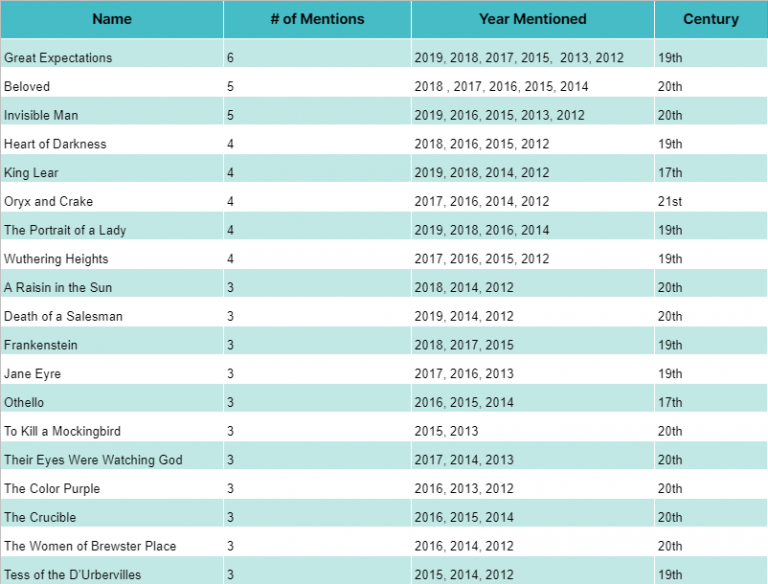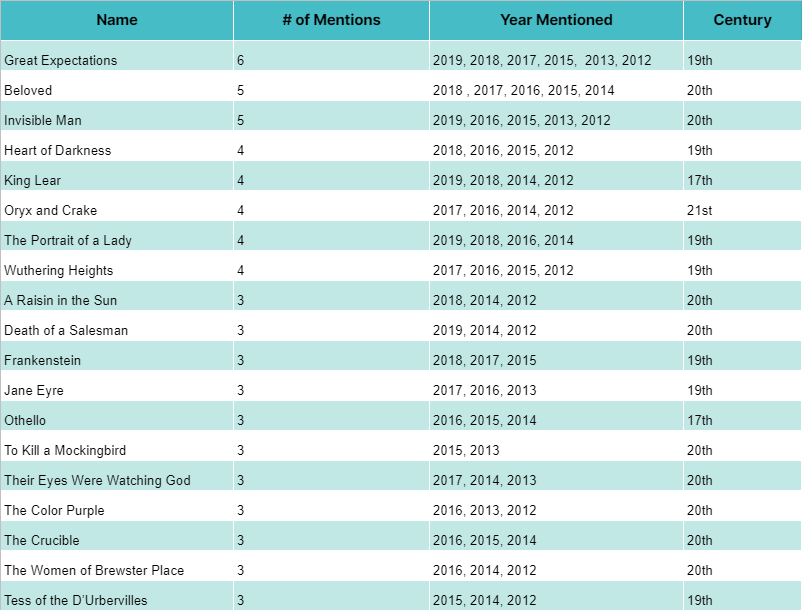 From the above list, you can see most of the books are actually required readings in other non-AP high school classes due to their important influence and literary value from the past to the present.
In order to help students prepare for High School English Literature at the beginner and advanced levels, we have opened two courses, one is Intro to English Literature and one is AP English Literature. These prep classes are designed to fill in knowledge deficit and introduce new information for students. In addition to the two courses, we also have multiple year-long English courses. Aralia's English tutors are inspired teachers and professors who are committed to student success. They are recognized in their field or are currently teaching at top high schools and colleges/universities in the US.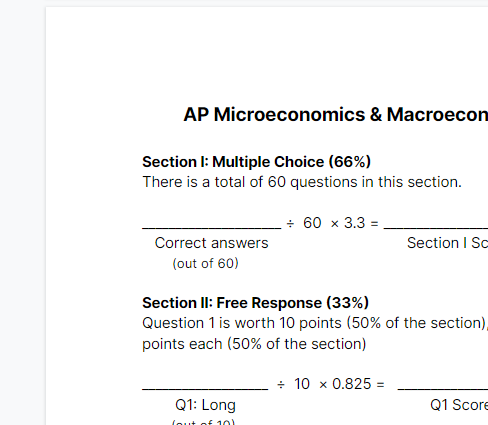 FREE 2023 AP Scoring Worksheet
With the scoring worksheet, you will be able to calculate your target score in preparation for the upcoming exam in May. We also have a full scoring worksheet available  below if you want to print it out and keep it in your folder. 
AP English Literature and Composition
This test prep course focuses on 4 main contents: rhetorical analysis, assertion and evidence, reasoning and organization, and language style learning. This course will focus on non-fictional reading materials, enabling students to identify and explain the author's use of rhetorical strategies and techniques. The weekly courses will focus on the types of questions students take when taking the AP English test, which are comprehensive essays, rhetorical analysis essays, and argumentation essays. In addition, there will be a strategy course for the multiple-choice part of the AP English exam.
Intro to English Literature
In this course, students will develop skills in critically reading literature. They will also practice writing skills, including how to write arguments to support claims about what they read. This class is ideal for any student who wishes to be prepared once school resumes in a high school English class.
English Reading and Writing (All Levels)
English Reading and Writing for Beginner course introduces students to the fundamental literature features to help them grow as readers and writers of English. The course will begin with an introduction to the rhetorical situation, which is critical for every writer to understand, and then discuss foundational literary elements like narrative, plot, diction, etc. Students will reflect on what they are reading through discussion in class, with their teacher and peers, and writing in biweekly assignments.