Create a Four-Year Plan During Your First Year in High School
College applications are a proactive process, in which students can prepare as early as middle school or the first year of high school to make sure they have everything ready before the big deadline. We always recommend that students start planning for four-year college in high school, and leave some space for change or growth. High school is an important and exciting stage of life; in addition to learning and participating in extracurricular activities, students begin to explore their post-graduation life goals.
When starting high school, freshmen should explore their potential and interests whilst also getting involved in activities that are crucial for college preparation. In this way, they will be confident and prepared when applying to colleges in their 12th-grade year, and eventually move towards reaching their goal of attending one of their dream schools. We have written a detailed how-to guide for students, but to summarize, here are your main responsibilities during four years of high school:
Grade 9: Start thinking about the direction of your academic development
Grade 10: Make preliminary decisions about your personal development
Grade 11: Prepare for College Applications
Grade 12: Complete and submit your college applications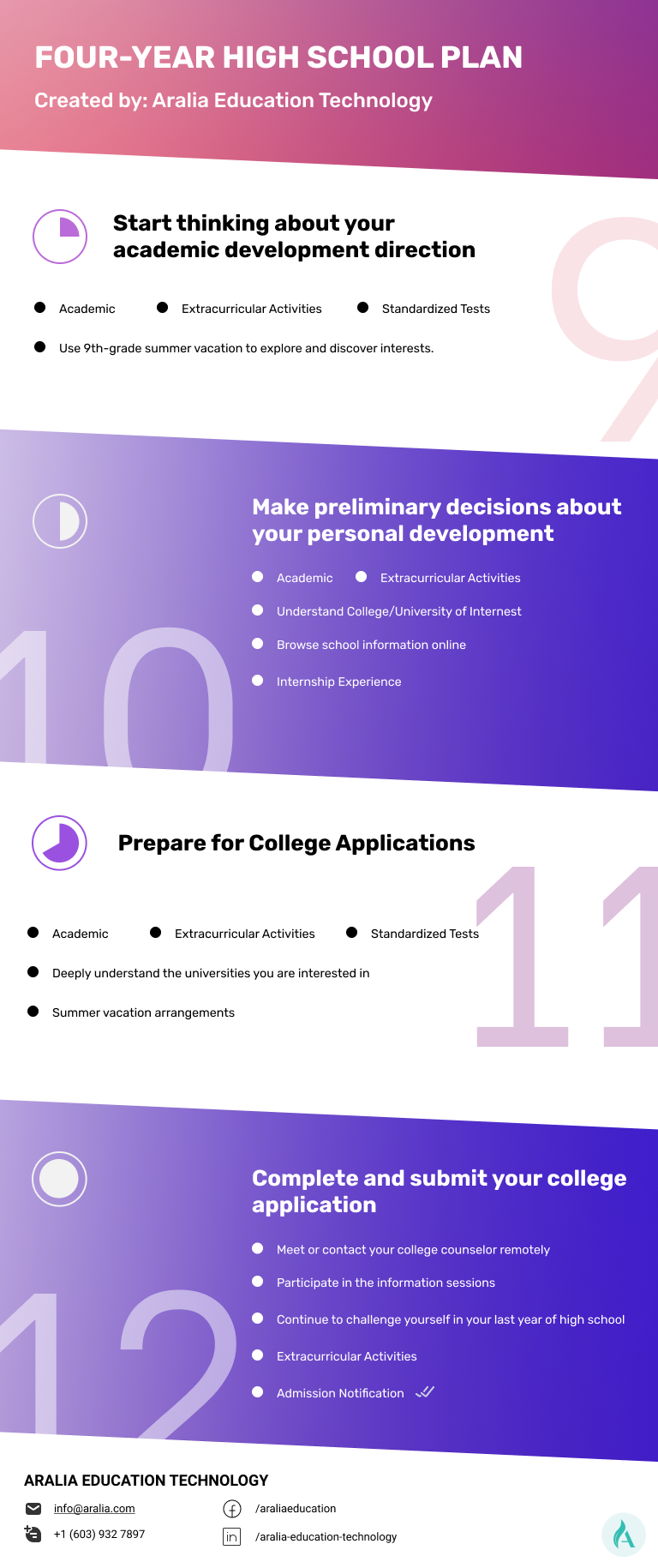 Academic: In terms of academics, your goal should be to take challenging courses within your capability and earn good grades. Think about what you want to study in high school and college, and make a note of which AP or advanced courses you will want to take. We recommend taking the most challenging courses available to you in high school; however, always be realistic about what you can handle with other responsibilities such as extracurricular activities and community service. If you start your freshman year with an unsatisfactory score, you can always work harder during the next semesters to improve your GPA.
Extracurricular Activities: The first year of high school is a time of exploration. Students can see which student or academic organizations fit their goals and plans for the upcoming school year and future. Remember that students should not overload themselves with activities just to impress colleges. "Quality over quantity;" colleges prefer that you profoundly contribute to one organization rather than being less involved with five other organizations.
Standardized Tests: Standardized Tests are typically not a significant concern during the first year of high school. However, if you want to take a PSAT 10 or PSAT/NMSQT, you should prepare at the end of your freshman year.
Brush up core subjects or get ahead
Many high school classes are a continuation of those taken in middle school, especially for math classes where tests are taken for class placement. Therefore, brushing up on that knowledge over the summer before school starts is essential. If you know which areas you are struggling in, the summer is an excellent time to tackle challenging concepts.
Another reason that you should review or receive tutoring on certain subjects is to get a head start before high school. If you have a clear plan of what you want to study and what interests you, you can take online classes to strengthen your knowledge or learn new things over the summer, while also keeping yourself busy during the break with an area of study or extracurricular activity that will help build unique skills.
At Aralia Education, our instructors are experienced teachers and professors committed to student success. They are recognized in their field or teach at top high schools and colleges/universities in the US. We now offer classes throughout all areas and majors, college preparatory courses, and portfolio courses. Head to All Online Course to learn more about our offerings!
Explore your fields of interests
Make the most of your summer before high school by investigating potential fields that may interest you. You can begin this exploration prior to or during high school – either way, we suggest coming into freshman year with a basic idea of what academic areas you'd like to focus on so that it's easier for you to find organizations and activities relevant to your interests.
Some guides to help you find your field of interest:
How to Prepare for a Medical Career for High School Students
Prepare for Psychology in High School
Preparing for a Therapist Career in High School
Develop your Interest in International Relations
Why should you study Economics in high school?
10 problems that high school students can turn into a business
Give back to the community through volunteering
Another option during the summer that can benefit you is to volunteer in your local community. Volunteering allows you to be connected with your community, and to feel grounded. If you volunteer in the local communities associated with your high school, you will gain a better understanding of the values and philosophies that your high school embodies. Examples of volunteer work vary from child tutoring, environmental activities, supporting local businesses, etc.
Practice independent learning
Independent learning is a critical skill for students to practice before high school. From elementary to middle school, students are taught using guided learning. Teachers are typically much more involved, and guide students through assignments, create learning schedules for the week and month, and develop other long-term projects. However, in high school, it is up to you to ensure that you truly understand the material and know how to utilize external resources to bolster your knowledge. Hence, developing some of these skills before high school is essential so that you don't struggle in your upcoming classes.
High school can be a challenging environment to navigate, especially during your freshman year. With new classes, more homework, and social challenges to face, it can be overwhelming for new students as they transition from middle school. But, if you take advantage of these ways to prepare yourself for this big change, you'll be able to excel and make the most of your first year in high school!