College application is a protracted battle. Students are strongly recommended to explore colleges and start a four-year high school plan from the moment they step into the high school door. When starting high school, first-year high school students or freshmen should focus on exploring their potential and interests and being involved in specific activities that are crucial for college preparation. In this way, they will be confident and feel prepared when applying for college in the 12th grade, and eventually move towards one of their dream schools.  
High school is an important and exciting growth stage. In addition to learning and participating in extracurricular activities, high school is also a critical period for students to explore their life direction after graduation. In order to be successful in high school, students must stay organized and create a 4-year plan, making sure their goals will be met at the end of high school. 
Private high schools as well as some public high schools in the United States provide students with resources related to college education and career development. High school students should be taking full advantage of these resources to support their college and career planning further.  
Now let's take a look at how students can effectively prepare for their college/university and career development in each grade of high school, through a four-year plan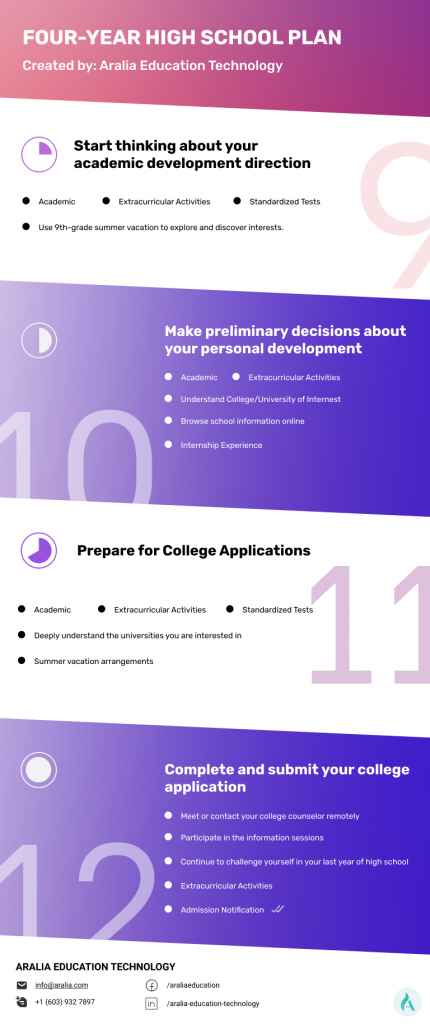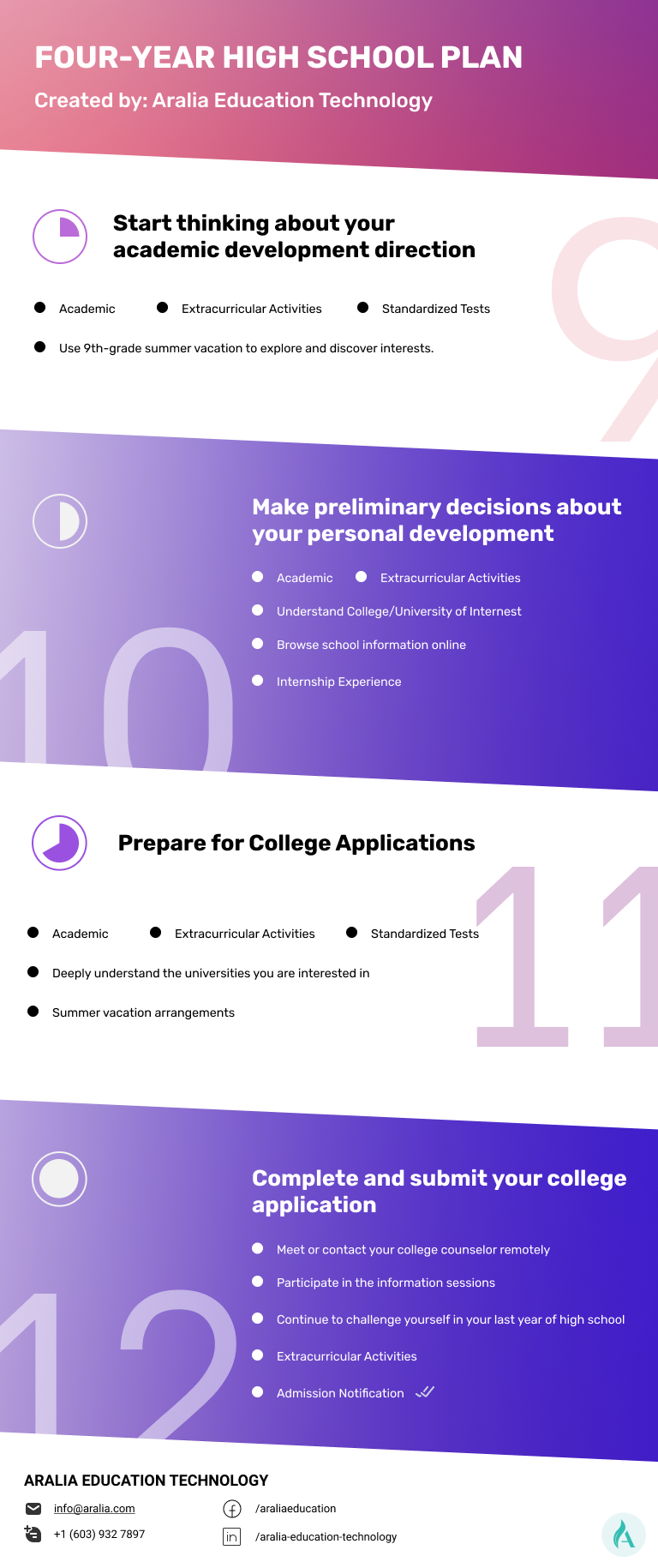 Grade 9: Start thinking about your academic development direction
Welcome to freshman year of high school. The main goal for this grade out of the four-year high school plan is to challenge yourself and try to complete as many advanced classes as possible.
Why: When universities evaluate students, they first look at each student's academic level. Class selection in your first year of the high school determines the starting point for the academic difficulty level over the four years of high school.  
Actively seek help from advisors and adjust your class selection plan: If you want to gain further knowledge about certain subjects you are interested in, you need to plan well starting in the 9th grade. For example, if you like mathematics and are good at Math, you can take more advanced math classes in 9th grade, such as Algebra 2, or even pre-calculus or calculus if you have taken the prerequisites. Most high schools give entrance exams to determine students' placement in Math classes. You can use the summer before your freshman year to fully prepare for the entrance exams.  
Start thinking about why you should go to college: Maybe you have never thought about this and think that going to college is the path everyone takes. Or, it is the expectations of your parents and teachers that a college degree is necessary for getting an excellent job in the future. In addition to these objective factors, everyone should think about why he/she is going to college. This is the motivation that will push your high school studies and lay the foundation for your high school life.  
During the school year, maintain active communication with your teachers, guidance counselors, or advisors: Your school mentor or advisor is a vital resource to help you adapt to high school life. Active communication with an advisor or guidance counselor can allow them to understand you better, understand your academic progress, and better provide you with useful suggestions about future planning. 
Extracurricular Activities
This is the best way to feel a sense of belonging in a new community and complete your high school experience. Extracurricular activities can provide you with potential university and career interests. In grade 9, you should: 
Try various extracurricular activities.

 

Cultivate personal interests.

 
If you have an unsatisfactory/low TOEFL score: You should actively prepare for the TOEFL test to improve your scores. During 9th grade, you will be placed in ESL classes. ESL classes are the best way to improve your English in addition to regular communication with English-speaking peers and teachers. You can take the TOEFL test in the spring of ninth grade to evaluate your current English level and make an improvement plan during the summer. 
If you have taken the TOEFL test and have an ideal score (105 to 110+): We suggest you start improving other academic skills: creative writing skills, reading, and comprehension skills in subjects such as the SAT or ACT. 
If you already took AP courses in 9th grade, you can prepare for the corresponding AP exams in May. Previously, if you took honors classes you would have been able to prepare for the SAT Subject Tests – the SAT II exams, but these exams were discontinued in January 2021. 
Use 9th-grade summer vacation to explore and discover interests
University visits: Leaving the high school campus during the summer break and visiting some university campuses can provide you a preliminary understanding of each university's learning environment. 
Participate in summer programs: Many universities provide a variety of pre-college summer programs for high school students. You can participate in some summer programs related to your academic interest during the summer after 9th grade. These programs can be cultural exchanges, volunteering, or even various sports activities. 
Take summer courses: Many universities provide summer courses that allow students to experience the learning environment in a university classroom and deepen their understanding of a field of interest. If you have a subject that needs improvement, you can also make use of the vacation time to deepen your study of that subject or preview the difficult courses for the next semester in advance. 
Summer internship or job: If you want to have a part-time job in high school, you can use this summer vacation to start looking for an internship or job in your field of interest. 
Grade 10: Make preliminary decisions about your personal development
Consider your academic interests and development direction while increasing the difficulty in your class selections. From grade 10 to grade 12, your class selection each year should be based on the results of the prior year, so you need to maintain good grades in all major subjects. It is important to ensure that the difficulty of your classes increases every year. In the 10th grade, you should choose challenging classes (such as honors classes or even AP classes), and ensure you maintain a relatively high GPA (Grade Point Average) in each class. 
Continue to maintain active communication with your school's teachers, guidance counselors, or advisors to ensure your academic and non-academic goals are completed as planned or altered based on new plans. In 10th grade, you can start talking to guidance counselors about potential majors and let the advisor suggest resources you can use to understand these majors and the occupations they lead to. 
Participate in Pre-College Programs to enhance your academic ability in the subjects you are good at. 
Extracurricular activities
Focus on areas of interest and where there is the most potential for personal development. You can then plan extracurricular activities accordingly in the 10th grade and create short videos to demonstrate your interests and skills. 
Interest in Sports:

Sign up for sports events of interest at your school, strive to join school teams during each sports season, participate in individual competitions if it makes sense for your selected sport (e.g. Golf, Tennis, Swimming, or Squash), practice and have good sportsmanship in order to win sports awards and be a great teammate. 

Interest in Performing arts:

Draft your resume and accumulate experience in film or stage performance; make full use of summer vacation to participate in related activities or practice. 
Interest in Visual art: Plan to visit museums or look virtually at art. Begin writing about your thoughts/comments about the artwork as well as about art appreciation. Continue to create artwork and experiment in new areas, begin creating artwork portfolios. Use summer practice to accumulate more experience with various types of art. 
Social activities and Leadership: Universities favor students who actively participate in school activities and have demonstrated leadership. In the 10th grade, you can actively participate in various school activities or build your own club to fit your interests. 
Understand Colleges / Universities of Interest
Start collecting college/university information and visit the schools to talk with admissions representatives, tour guides, or current students, if possible. If you already have a specific idea about the areas you are interested in and future professional direction, you can collect university information through your school's college counselors as well as your own research. When opportunities arise, you can visit the university during spring and summer vacations. Prepare a list of questions to ask during campus visits in advance and get answers through conversations with the school tour guide as well as professors, coaches, or college students, if possible. 
Browse school information online: You can read information about different universities available through US News, Niche, and Forbes for comparison and evaluation. Criteria for evaluation can be geographic location, size, environment, admission requirements, tuition, grants, accommodation, facilities, etc. Then, you can begin to create lists of ones you are interested in. 
Internship experience: Consider why you want to enter college and what majors at each school are related to your career interests. For the careers you are interested in, you can participate in related internship experiences. 
Grade 11: Prepare for College Applications
As you enter the third year in the four-year high school plan, you are already very close to the university gate. This year you will start to take practical actions for your college applications!
Continue to challenge yourself in academics: In 11th grade, you should continue to take the most advanced classes within your abilities. While looking at students' GPA rankings, the top 30 universities also want to see the difficulty of classes taken. You should take more honors and AP classes in the third and fourth years of high school within your capabilities. Selective universities will pay great attention to the grades of students in grade 11. By the end of grade 11, you will have a cumulative GPA, which is shown on your high school transcript submitted to the university when applying. 
Note: Before taking any AP classes, remember to check AP college credit on the university website. 
Prepare for Letters of Recommendation: Your performance in class, after class, and on homework will affect each teacher's impression of you and will eventually be discussed in the recommendation letters. So, try to make a good impression on your teachers. We suggest you actively participate in class, ask good questions, study diligently, make full use of extra help resources available after class and during the teacher's office hours. 
Why: Taking advantage of these opportunities will help your teachers get to know you better. Each teacher's understanding of your attitude and learning abilities becomes the first-hand knowledge they use when writing you a letter of recommendation for applying to college/university. 
Additionally, letters of recommendation can be from an employer you have worked with for an extended period of time or from a coach for a sport you participate in. Make sure to always represent yourself professionally at work and have good sportsmanship on any sports team you are part of. 
Start to make or update your resume: List your educational experience, awards, extracurricular activities, community services, summer projects, work experience, etc. If you already have access, you can update the college application system(s) relevant to the schools you are interested in with this information.  
Improve college essay writing skills: College application essay writing is very different from the writing you will generally do in high school classes. To be fully prepared for college application essay writing, 11th-grade students should learn more about how to write interesting essays or contact college counseling professionals for help getting started.  
Maintain active communication with college counselors: to ensure that academic and non-academic goals are completed. In the second semester of Grade 11, you should create a list of colleges/universities and prepare for their applications.
Extracurricular activities
If you have done exceptionally well in a certain area, now is the time to take action and achieve results: 
If you are outstanding in a sport, keep participating and try to get onto the varsity team if you are not already a member.  

Suppose you are outstanding at a specific performing arts/visual art

, such as singing, drama, painting, photography, etc… In that case, you can create a portfolio. Continue to participate in school-related clubs or courses, maintain good participation, and try to gain some leadership opportunities for yourself. If the school does not have a club related to your interests, consider starting a club to develop interests and cultivate leadership.  

Actively participate in school clubs, projects, or outside activities related to the subjects you are good at or interested in,

develop your interests while continuing to improve your knowledge in any specialty areas. 
Become a leader: Continue to actively participate in various school activities in the 11th grade and strive for (or continue) to develop soft skills such as leadership, negotiation, and public speaking. Plan to gain a leadership position in the clubs or communities in which you are most interested. 

Prepare and register for the ACT or SAT test: Standardized test scores are an essential part of university applications because they reflect your academic performance. You should take your first exam in the fall of the 11th grade and the second exam in the spring. Between exams, review your scores and find areas of improvement. Use the numerous ACT or SAT exam preparation books on the market to work on problem areas in order to be able to achieve your target score on the second exam. 
AP and SATII exams: If you took any AP classes, prepare for the corresponding AP exams in May. Previously, if you took honors classes would have been able to prepare for the SAT Subject Tests – the SAT II exams, but these exams were discontinued in January 2021. 
Deeply understand the universities you are interested in
Make a list of the key universities you are interested in, arrange visits, and compare various universities: There are many benefits of campus visits. These include allowing your family to understand the school more intuitively while also leaving a good impression on the university. Universities admissions teams today would like to see demonstrated interest from a student. Making a campus visit indicates that you are very interested in entering the university. You will also be able to use your experience of school visits in your application essays and/or short responses. 
After creating a clear list of schools, make appointments for school visits and use your spring break to visit them. Prepare a list of questions before visiting each school, and after seeing the university, write out or put into a spreadsheet your thoughts the university's characteristics for later comparison.
Summer vacation arrangements
If time and conditions permit, you can continue to visit universities that you are interested in. 
Use your summer vacation to participate in internships, work, or community service activities related to your interests. 
Participate in a University Pre-College Program to enhance your academic ability in an area of interest. 
If you need to take a third SAT or ACT exam, use the summer vacation time to further prepare by studying and/or taking preparation classes. 
Start brainstorming and complete a draft of your personal statement to use on college/university applications. 
Start to fill in your personal information on the common application system online or any other system relevant for the schools you are interested in (many state schools use their own application systems). 
Grade 12: Complete and submit your college application
Year 12 is finally here! There is still a lot to do in preparation for your college applications. You can use the following planning checklist to check your progress and track important dates such as upcoming exams, university admissions deadlines, and admissions decision deadlines.  
Meet or contact your college counselor remotely at the beginning of the fall semester. Through the meeting, you can confirm your application list with your counselor, and ensure that your teacher recommendation letters and school transcript(s) are submitted to the colleges/universities before the application deadline. 
Participate in the information sessions from the college/university and communicate with college admission officers. Through participating in information sessions, you can show the school your demonstrated interest, especially if you already took a tour. You can also learn more about each school to help you identify which one best suits you. 
Continue to challenge yourself in your last year of high school: Senior Year is a busy year, but you must not slack off in your studies. You must continue to challenge yourself by choosing more challenging classes while maintaining excellent grades. 
When your high school sends the transcript to the colleges/universities you are applying for, the transcript will show your midterm or final grades for the first semester of 12th Grade. When you are admitted to colleges and universities in the spring, your high school will send the transcripts of 12th-grade year. The results of the second semester will affect your eligibility for scholarships, grants, or honors programs if the school has one. 
Extracurricular activities
Continue to develop your leadership skills and demonstrate them in your college application. Students with arts and sports expertise can continue to discuss application strategies with college counselors, coaches, and art teachers. 
At least two weeks before the application deadline, you should remind your teacher, school counselor, coach, or employer to complete and submit recommendation letters. 
Submit college applications to all schools on your list before the deadline: Complete the application for each school, including general application documents for each application system, supplementary documents for each school as required, recommendation letters. Submit supplemental documents such as school transcripts and test scores in a timely fashion to avoid any potential issues or delays. 
If you apply for an EA/ED school, all EA/ED application materials must be completed by the end of October.
12th Grade from January to May
Schools that have EA/ED applications will generally have results in mid to late December. If admitted by ED, please complete the enrollment after receiving your acceptance. From April to May, submit supplementary materials (if necessary), confirm dormitory choices, join social media groups to meet your future classmates.  
If you're not admitted by EA or ED, consider applying for ED2 in January. If you don't apply for ED2, finish and submit your regular decision applications. The admission results will be announced in March and April. You then need to choose your preferred school out of the schools you were admitted to. Consider visiting the schools you received admission to if you haven't previously. During the visit, you can make sure the school matches your interests, have various major choices, personal development direction, and will be a place you would like to spend the next 4 years! After choosing which school you would like to attend, pay the relevant fees and submit documents according to the specified deadlines in the enrollment paperwork. 
Handling I-20 transfer: At the end of the semester, communicate with the advisor or DSO who manages the I-20s and apply to transfer your I-20 to the university you will attend. 
Graduating from high school and preparing to attend college/university: (June to July) Apply for an F-1 visa, prepare for admission, follow your school's requirements for a physical examination, and get any required vaccinations. In 2021 and after, plan to have certification for your vaccination against COVID-19.  You can learn about the introductory courses in your planned major(s) during the summer and participate in the pre-departure programs from your college to make full preparations for attending in the fall!  If you didn't previously, join social media groups to meet your future classmates. 
Your four years in high school are over! Enjoy the high school graduation! 
As can be seen from this list of college plans over the four years of high school, applying to college/university is not just a short-term task. It is a process that requires planning from your Freshman / 9th Grade year. You should learn to pay attention to the relationship between college education and your interests and career development throughout this process. Through continuous exploration, you will find the directions you would like to take in the future. You will also learn how to ultimately reach the end goal by setting and achieving short-term goals over your years in high school. 
College application planning is a long and challenging process. Let's work hard together! Aralia's teachers are always available to provide give academic help!  
If you want to enhance your application's competitiveness by doing scientific research and improving your grades in academic classes, but you cannot find good resources, join Aralia's online course program! Experienced instructors from American high schools and colleges will lead you on the road to improvement. 
This is one of the articles in the High School Series. Check out the rest: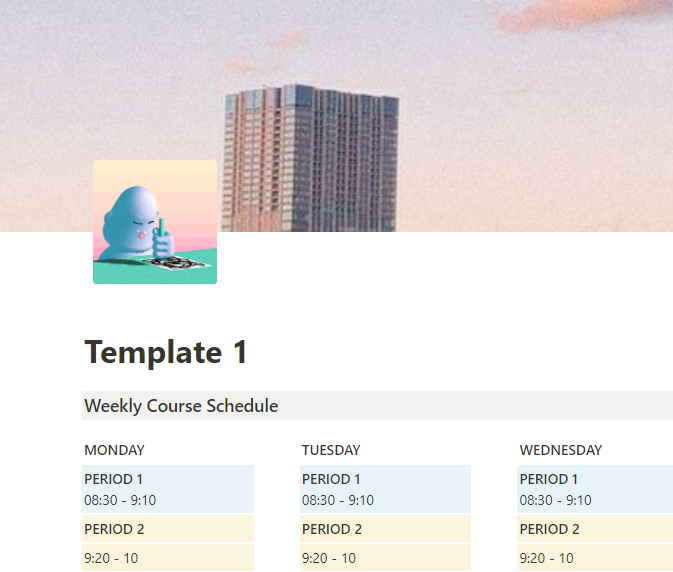 FREE 2023 NOTION TEMPLATE FOR HIGH SCHOOL PLANNING
With the template, you will be able to have an overview of your high school schedule, as well as prepare for future deadlines/college applications/etc. 
We are currently improving the Notion template, so if you have any suggestions, feel free to contact us at info@aralia.com.