What will be covered in the article?
Bank of America Student Leaders Program is a summer experience program for 300 juniors and seniors in high school. Students will participate in an 8-week paid internship at a local nonprofit/charitable organization. Students will receive leadership training while enriching their local community and participating in Washington DC's leadership summit. 
During the internship, students work with a non-profit organization to address a community issue, such as education, the environment, or economic development. They also participate in leadership development activities and have the opportunity to network with business and community leaders.
The leadership summit brings together Student Leaders from across the country for a week of professional development, networking, and skill-building. The summit includes workshops, panel discussions, and community service projects, and provides students with the opportunity to learn from business and community leaders and build lasting relationships with their peers.
Eligibility: Current junior or senior in high school must live in eligible areas, be in good standing, and be legally authorized to work in the U.S without sponsorship through September 2023
Date: 8 weeks (from the end of your school year, and include the week of July 17-24 in D.C)
Location: Multiple
Cost: Free 
Application Deadline: January 13th, 2023.  Students who have submitted nominations will be notified of their application status in April 2023.
National Student Leadership Conference invites high school students from grades 9-12 and middle school students from grades 6-8 to participate in the Pre-college summer program. Through this high school leadership program, students receive leadership training, hands-on simulations about career scenarios, sharing from guest speakers, and experience life on college campuses. 
In addition to the leadership program, high school students can also participate in summer programs in business, STEM, government and law, and art and design.
Date: 6 days (June or July)
Duke University, Durham, NC (July 5 – July 13, and July 17 – July 25)
Yale University, New Haven, CT (July 24 – July 2, July 6 – July 14, July 17 – July 25)
UC Berkeley, San Francisco, CA (June 23 – July 1, and July 5 – July 13)
Cost: $2,895
Application Deadline: Rolling Admission
Leadership Seminar is a competitive, 10-day high school leadership program designed for current high school juniors with a desire to improve their high school leadership skills. 120 admitted students will learn about global issues concerning different fields. Admitted students are top 10% of their class and have SAT scores for math & reading of 1300-1500 or 31 and above for the ACT. 
Dates: July 22 – August 2, 2023
Location: South Bend, IN
Cost: $60 application fee and $150 non-refundable enrollment fee
Application deadline: October 17, 2022 – January 23, 2023
Leadership in the Business World (LBW) is an intensive summer high school leadership program for rising seniors. Students will receive business education and opportunities to hone leadership, teamwork, and communication skills. In addition, students will conduct research about the business and speak with successful leaders across industries. All participants will receive a Wharton Global Youth Certificate of Completion upon completion of the program.
Eligibility: Rising seniors have to demonstrate leadership experience and have a GPA of at least 3.5 or higher.  International applicants are welcome.
Dates: Jun 4 – Jun 24, 2023 / Jun 25 – Jul 15, 2023 / Jul 16 – Aug 5, 2023
Location: Philadelphia, PA
Cost: $9,899
Application deadline: Priority deadline: January 25, 2023 / Final deadline: April 5, 2023
Tufts University invites high school students to participate in a virtual experience, where students will have the opportunity to impact local and global social issues. The program will equip students with leadership skills and civic knowledge for connection-building and collaboration. Leadership for Social Change (LSC) introduces rising high school sophomores-seniors to the myriad of ways social change and civic leaders respond to ruptures in society, with the focal point this year being the systemic disturbances stemming from the ongoing COVID-19 pandemic. These issues will include education inequities, community health disparities, food justice, public policy and more. The objective of the program will be to equip students with the skills and knowledge to lead and emerge as change agents capable of navigating societal challenges.
Eligibility: High school students entering grades 10-12
Dates: July 30 – August 8, 2023
Location: Virtual
Cost: $3,800
Application deadline: December 1, 2022 – May 1, 2023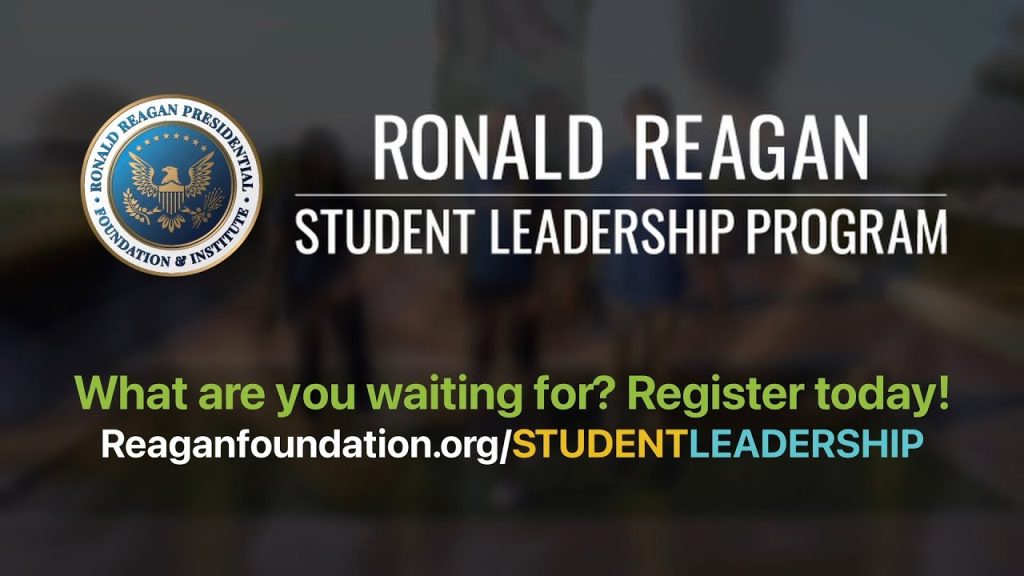 Ronald Reagan's Presidential Leadership Program was created by the Reagan Foundation. The program invites high school students to a week-long experience, teaching students about informed decision-making, effective communication, and purposeful opinion.  There are four programs that students can choose from. 
1. Finding The Leader In You 
Date: July 26 – 28th, 2023 from 9am-3pm PST daily
Cost: $300
2. Leadership Camp
Date: July 9th – 16th, 2023
Cost: $2,100
3. Leadership in Action
Date: June 26th – 30, 2023 from 9am-3pm PST daily
July 31st – August 4th, 2023 9am-3pm PST daily
Cost:$649
4. Virtual Leadership Program 
Dates: August 7th – 11th, 2023
Cost:

$549
Application deadline: Rolling Admission 
Students interested in engineering and technology will participate in an engaging virtual year-round program. They will build self-confidence and opportunities to network and receive training in STEM fields and soft skills such as leadership.
Dates: Various sessions starting January 9, 2023
Location: Virtual
Cost: N/A
Application deadline: Rolling Admission. In order to participate in the SHLA program, all participants are required to join SWENext (it's free!)
Students in grades 9-12 can participate in the two-week on-campus or four-week virtual experience to learn about a wide variety of global issues while honing problem-solving, public speaking, active listening, and collaborative model of leadership skills. Students will choose one course from different options, each focusing on current issues. 
Eligibility: Students completing grades 10 to 12, ages 15 to 18 by June 18, 2023
Dates: 
On Campus: Sunday, June 25 to Friday, July 7, 2023 and Sunday, July 16 to Friday, July 28, 2023
Online: Monday, July 10 to Friday, August 4, 2023
Location: Brown University campus in Providence, Rhode Island / Online through Canvas, Brown's Learning Management System
Cost: $5,218 (On-campus) and $5,313 (Online)
Application deadline: January 9, 2023 – May 12, 2023
Students from over 150 countries are invited to participate in the two-week virtual high school leadership program. Students will choose among a vast array of options, such as Innovations in Science & Technology; Literature, Philosophy, & Culture; Politics Law & Economics; and Solving Global Challenges, etc. Yale Young Global Scholars (YYGS) program is an intensive academic and leadership development program, as it offers a variety of academic seminars and leadership development activities, and is designed to challenge students academically and help them develop their leadership skills.
Eligibility: Be at least 16 years old by July 16, 2023 , and is currently high school sophomore or junior
Dates: June 18-June 30, July 2 – July 14 and July 16-July 28
Location: On campus
Cost: $6,500
Application deadline:  11:59pm ET on January 10, 2023 (RD)
Summer Discovery partners with multiple colleges across U.S, England, and Singapore to provide various high school leadership programs. The Musiker Family founded summer Discovery as Musiker Student Tours in 1966. The hands-on program will provide students with a strong understanding of leadership, and networking opportunities with business leaders through workshops and off-campus visits. 
Eligbility: Students grade 6-12
Date: 4 weeks 
Location: Georgetown University and UCLA 
Cost: $11,899
Application Deadline: Varies
Indiana University invites young and high-achieving female students to participate in a one-week business high school leadership experience here. Students will participate in workshops with top Kelley School of Business faculty, while building leadership and communication skills through solving case projects with like-minded female leaders. 
Dates: Varies from April to October
Location: On-campus
Cost:  Free
Application deadline: Varies from March to May
MIT Leadership Training Institute, hosted by MIT, is a high school leadership and community service program for local high school students during the spring. Students will receive training for leadership building, conduct community service, and be mentored by various leaders. Past community service activities include addressing peer tutoring resources, wellness, and creativity.
Dates: Every Sunday from  1-4 pm EST between February 5, 2023 to May 7, 2023.
Location: On-campus
Cost:  Free
Application deadline: December 17th, 11:59pm EST
Lead4Change Student Leadership Program is a secondary and high school Leadership Curriculum created by the Foundation for Impact on Literacy and Learning. Students from grades 6 to 12 can be in teams of 3 or more to participate in leadership lessons and integrate them into any subject area and extracurricular activities. There are two lesson tracks and 6 lesson tracks.
Eligibility: Students from grades 6-12. Students can participate as a team (3 or more students in 6-12th grades) with an adult teacher or club advisor. 
Application deadline: Rolling Admission
The program is designed for curious and passionate students looking to develop their leadership skills. The Institute will challenge and inspire participants to think about leadership through a feminist lens. It will allow them to take a course within one of the seven tracks offered, and work in small groups to design and execute solutions using the skills gained in their courses and workshops. Participants will also have the opportunity to meet with women in workplaces throughout the city to learn about the skills and tenacity needed to stand out in today's workforce. The program offers six tracks, and students can choose the one that best fits their interests.
Session 1: Sunday, June 25th- Friday, July 14th, 2023
Session 2: Sunday, July 23rd- Friday, August 11th, 2023
Application Deadline: Rolling Admission
FBI-Law Enforcement Executive Development Association, in partnership with the FBI National Academy Associates,  hosts a week-long training event, the Youth Leadership Program (YLP) for high school students at the FBI Academy every summer. To be eligible, candidates must be 14, 15, or 16 years old, demonstrate high academic standards, and have good citizenship. Applications for the 2023 Youth Leadership Program will be available on November 30, 2022. 
Cradles to Crayons' Teen Leadership Corps (TLC) is a program that provides high school students with the opportunity to develop leadership skills and make a difference in their community by serving as volunteer leaders in the organization. The program aims to empower and inspire teens to become responsible and engaged citizens by participating in various volunteer activities and leadership training sessions. TLC members are trained to lead volunteer groups, organize community service projects and gain valuable experience in nonprofit work, community service and leadership.
Timelime: The TLC program is run three times per year, in the Spring (March–May), Summer (June–August), and Fall (October–December).
The Leadership Academy @ Saunders provides innovative leadership development opportunities for high school, undergraduate, and graduate students, alumni, and working professionals to bridge the gap between business and technology. The Academy offers a variety of experimental co-curricular programs for individuals to enhance their personal and professional leadership skills. Through these opportunities, the Academy aims to impact the business environment and global community positively. Rochester Institute of Technology offers a series of certificate programs, unique experiences like Students Leading Business Camp and mentorship programs for students to choose from.
Application Timeline: Varies depending on program