The world's top academic journal "Harvard International Review" has launched an academic writing competition for global high school students!
The HIR Harvard International Review Academic Writing Contest is founded by the Harvard International Review, a quarterly magazine covering insights on international affairs. The magazine has featured commentary by 43 Presidents and Prime Ministers, 4 Secretaries-General, 4 Nobel Economics Prize laureates, and 7 Nobel Peace Prize laureates.
Competition Format
The competition invites high school students from grades 9-12 worldwide to submit a short essay on the topic of international affairs. Submissions will be read and graded by the Harvard International Review academic journal. If selected, students will participate in a virtual HIR Defense Day. On that day, students will give a 15-minute presentation and oral defense to the judges, and the submission/presentation must be in English with traditional American spelling.
2022 Writing Topic: There is no Planet B
Sustainable development topics have changed significantly throughout the years, with the first topic addressing climate change and clean energy 5-10 years ago. Protecting the planet is not limited to preserving the environment, but promoting a green lifestyle, improving public health, promoting sustainable innovation, etc. Contributors can choose any of the 13 areas to craft their essays. The essay should reflect on the topic of There is no Planet B and is related to international affairs.
Submission Guidelines
Articles should be around 800-1200 words (not counting diagrams, tables of data, or authorship declaration). HIR does not accept op-eds, otherwise known as opinion pieces.
As a journalist organization, HIR requires submissions to follow the following adapted version of the HIR's style guide. Submissions are also required to be culturally sensitive, fact-checked, and respectful.
Eligibility
High school students in grades 9-12 attend school in the United States or other countries.
Deadline (Summer 2022):
Submission Deadline: August 31, 2022
Oral Defense Date: September 25, 2022
Prizes:
Finalists will receive a medal along with an HIR certificate, an opportunity to publish their work on the HIR website, and win a printed subscription.
In the 2021 competition, 2 Aralia students won the Silver and Bronze medals in this competition!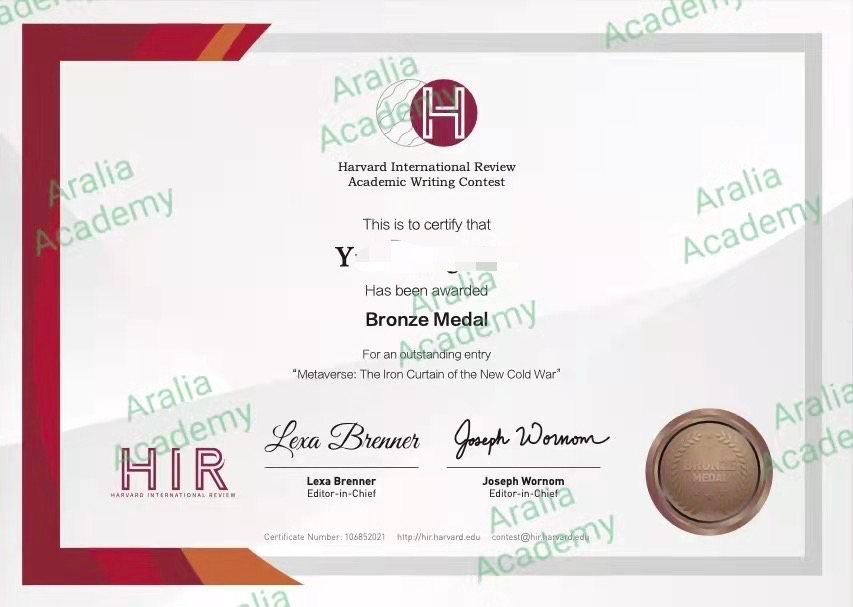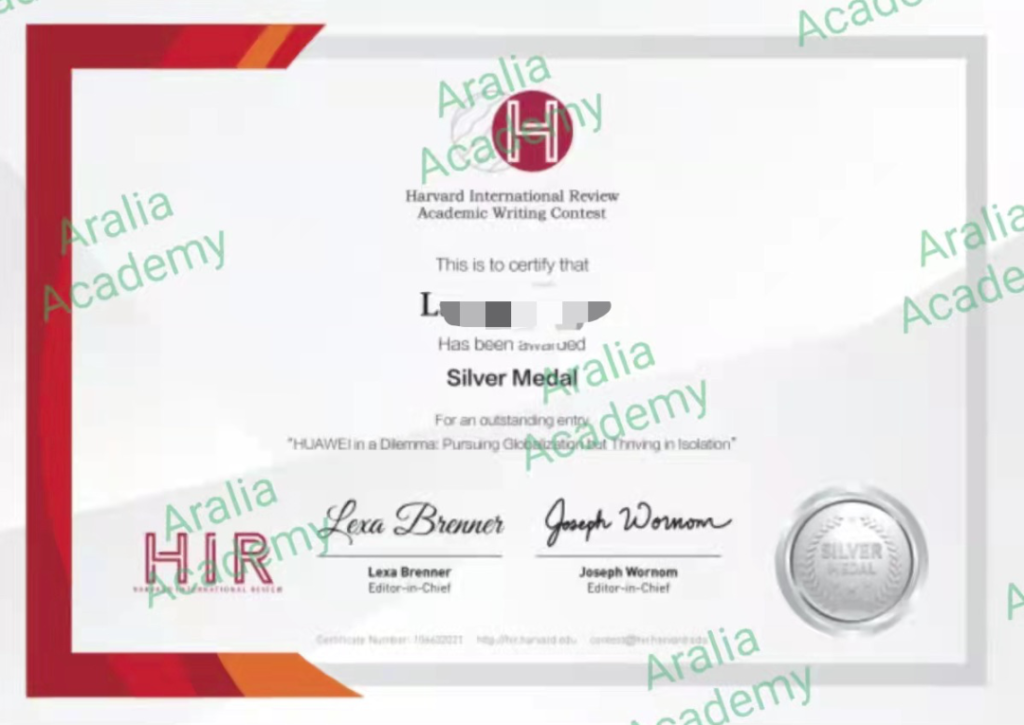 Professor F — Award-winning Professor
Currently teaching at Northeastern University, and has taught Economics, Finance, and Political Science at Tufts University, Brandeis University, and Rhodes University 
Her research and published books focus on informal economy, microfinance, political economy, democratization, and behavioral economics in Latin America. 
She received statistics training in randomized experiments in Economics at MIT and as a visiting scholar at Harvard Kennedy School
She's a member of the American Political Science Society, the American Economic Association, and the International Studies Society. 
She has a rich corporate work experience in well-known financial consulting companies
In2019, she went to Columbia to led a professor training in the Catholic University of Javiriana, ad provided professional support for CNN's "Breaking News" in Boston from 2012 to 2014 
She holds a Ph.D. and MS in Political Science from Northeastern Univeristy and an MS in International Economics and Finance from Brandeis University. 
In this course, students will use college-level economic theory and models to analyze economic issues of major significance today, connected to international affairs. The instruction will provide students with the tools necessary to write an 800-1,200 word essay, which can then be submitted to the Harvard International Review Academic Writing Contest. The class will guide students to integrate their acquired knowledge of economic theory, phenomena, data, and policy, and to apply this knowledge to studying a topic shaping the world today, based on the theme of "Globalization vs. Isolation." Students will gain the analytical tools to make informed policy recommendations for how to best address the economic issues raised in their article.
The goal of this course is to help students learn how to read, critically evaluate, and begin to produce economic articles, with a particular emphasis on empirical evidence. Students will review introductory concepts in international economics and macroeconomics. Students will learn to use graphs, charts, and data to analyze, describe, and explain economic concepts. The primary goal is to develop and then build on your understanding of the analytical tools and approaches used by economists, and to use those tools to develop an original article. By the end of the course, students will produce an essay suitable for submission to the Harvard International Review Academic Writing Contest. In addition to helping students prepare for the Harvard International Review Academic Writing Contest, this course will also provide a strong foundation for students who want to continue on with the study of college-level economics.
By the end of this course, students should:
Understand major issues in international economics.
Understand how economists use data and theory to write analytical papers.
Understand how to produce sophisticated articles on economic issues, and what makes for effective writing in economics.

Have an 800-1,200 word article ready to submit to the Harvard International Review Academic Writing Contest on the theme "Globalization vs. Isolation."
Competition overview

AP style writing

How to do economics research

Writing Lecture: Finding Data, Literature Reviews

Critically reading through example papers

Analyzing what makes for effective writing about issues in international economics

Writing Lecture: Data Writeup, Data Analysis, Introduction, Conclusion

One-on-one classes centered around guiding students through writing their articles to submit to the Harvard International Review Academic Writing Contest
Students who have a certain foundation in economics, want to publish papers and participate in competitions.
Students and their parents will receive brief feedback after each class, via Teachworks, regarding the student's general participation in class. Students will also receive feedback on graded assignments via email. At the end of the course, the student will receive a final report card, which thoroughly speaks to their overall participation in the course, including major assignments.
8AM-10AM, Sunday, September 12, Eastern Time
2 group sessions (2 hours per session) and 6 one-on-one sessions (1 hour per session).