1. What do International Relations students study?
For students with an interest in international relations, a common concern is the uncertainty about what this major entails. International relations is the study of global issues and how politics, economics, history, and culture affect global affairs.
Being an International Relations student in college, you will have the opportunity to meet people from various backgrounds fields: you will make friends with people who will work in the UN, or influence the world in powerful ways. You will undoubtedly meet amazing people worldwide with many different opinions and viewpoints to help you expand your own knowledge and worldview.
International Relations is an interdisciplinary major in which one needs a strong understanding of social and formal sciences. From the social sciences perspective, one must learn about history, sociology, psychology, economics, and political science. They will need to understand the history, root causes, and social implications of international events. If someone decides to study International Relations, they will have to read and write a lot, as much of this knowledge is recorded in history books and requires critical thinking to understand on a deeper level.
From the perspective of formal science, international relations includes economics. Therefore, you will have at least one or two classes related to calculus and statistics. The study of statistics is to help you analyze and evaluate theories in international relations. Another important aspect is security, especially national security and cyber security. In addition to math, you may need to study fundamental computer science to be aware of technological tools and solutions for security problems that focus on international relations.
Because of the nature of the major, students will also have to demonstrate competency in a foreign language (or two). This requirement makes sure that you are prepared and confident when communicating with people from other countries. Becoming an expert in even one language will help you develop a profound understanding of a country's culture and customs.
2. How can you develop your interest in International Relations?
So, how can students further explore and advance their interest during high school?
Model UN
Model UN is a popular option for students with interest in International Relations. Model UN is an event that simulates the UN conference, where students act as ambassadors and delegates from various countries and debate about current issues. Model UN runs on a shorter time frame than the actual UN. You will have time to prepare and practice for your speech, discussion, or debate with other country's representatives. Participating in the UN gives you practice in public speaking and persuasion, and provides you with knowledge about current events and international relations. Model UN is a perfect platform for learning, improving, and getting to know friends with similar interests.
Language Clubs and Debate Clubs
In addition to Model UN, you can also participate in other clubs that will help you improve in understanding diversity, culture, or just general public speaking. Since students must have a strong language and culture awareness proficiency in college, having a solid ability in the language and a strong understanding of culture in high school can set you apart compared to other applicants. Debate Club is also an excellent opportunity for students to practice public speaking skills, and students can also go to debate competitions to test their skills and gain experience. Public speaking skills are essential in any career within International Relations because students will have to present their ideas and express their opinions no matter what jobs they do.
And so many more…
Pre-College Programs, organized by colleges and universities across America, offer students a traditional college experience by taking college classes, networking with experts in the field, and meeting like-minded studen ts. By attending a Pre-College Summer Program in International Relations at your dream school, you will have an advantage and confidence when applying to university. All the Pre-College Summer Programs in International Relations expose students to the college workload, allow students to study a range of International Relations topics from different school departments, practice analyzing global affairs issues with world-renowned professors, and explore potential future career paths.
Receive key transferable skills
International Relation Programs and curriculums are designed to prepare students with essential skill sets for communicating across cultures. However, this skill set can also be applied in other industries; for example, Public Relations, Consulting, Research, Economics, etc. Therefore, whether or not you decide to pursue International Relations in college, you will still be set up for success in another career. International Relations helps you tremendously with public speaking, and writing provides you with the ability to synthesize and analyze data for compelling stories. Students will also develop strong interpersonal skills to facilitate conversations within the workplace environment. If you decide to pursue an advanced degree, your interpersonal skills and communication skills will give you a leg up when interviewing with the admission officer, regardless of the graduate majors you are pursuing.
Make an impact on real issues
Students who want to dive deeper into the field gain valuable skills and experience to impact real global issues once they graduate. Because students study and understand international relations from the root, they can apply that knowledge to implement solutions and policies that can affect millions of lives around the world. Examples of issues can be decreasing food insecurity in lower-income countries or helping children to develop better nutrition plans.
Develop a unique understanding of other cultures
Due to the language requirements and exposure to the world outside of your bubble, you will be surprised by the unique cultures and customs of other countries. If you have never visited or are interested in learning more about China, you will learn that China has 56 ethnic groups. The Han Chinese account for 92% of the overall Chinese population, while the other 55 make up around 8% (Fifth National Population Census). 
Thanks to studying international relations in different breadths and depths, students will develop a solid awareness and understanding of other countries, their cultures, and current global situations. Beyond the foundation of the relationships between countries, states, and governmental functions, International Relations also provides a core understanding of relationships between people and non-governmental organizations.
Leads to a variety of career paths
Studying international relations can open up many career paths for those with a passion for understanding global affairs and cultures. Diplomacy, foreign aid, human rights advocacy, and policy making are just some of the professional opportunities available to students who study this field. By combining theoretical knowledge from the classroom with understanding of current events, individuals majoring in international relations gain marketable skills, which make them attractive candidates for a wide array of job positions. It is also possible to further specialize in certain areas within international relations such as peace building and conflict resolution, development cooperation, or border security and migration. As such, studying international relations gives individuals the know-how to successfully pursue a career in the world of global politics.
In conclusion, studying international relations can be extremely rewarding, as it allows individuals to explore different cultures, understand current affairs, and pursue various career paths. With the right tools and hard work, anyone interested in global politics can develop the knowledge and skills needed to succeed in this highly dynamic field. So, start taking initiative today – you never know where your interest in international relations could take you!
Jumpstart your International Relations interest with Aralia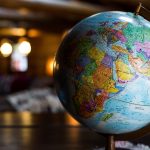 International Relations Research Project
Under the guidance of the professor, students will write a 15-page paper on the topic of international relations; examples of research topics: What is globalization? How do we measure it? What are the pros and cons of globalization? What is the best way to reduce government corruption? Use the data of Transparency International, select a country and write a report, etc.